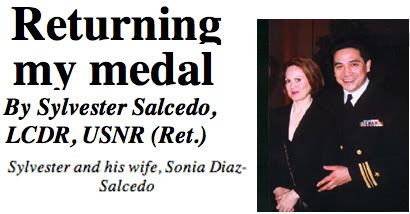 Sylvester Salcedo was an interesting guy. He returned his service medals in protest of a national drug policy that was going nowhere. I also believe he "returned" his wife (ex-wife?), former CSD1 Superintendent from Hell, Sonia Diaz-Salcedo. Looks like the good guys won one. Some small justice for the late, excellent principal of PS64, Jeanette Headley, who was unfairly removed by Sonia so she could accumulate notches on her scarf. Sonia was canned quickly by the school board in Las Cruces, New Mexico. The folks at
lcpsunderground.blogspot.com/ did some great reporting in spurring on that rejection. Here's a sample of how they disclosed a career littered with incompetence:Diaz Track Record
New York City Community School District 1:
Resigned as Superintendent when Board did not renew her contract after discovering a budget deficit of $1.5 million as reported by the NY Times 4/26/2000.
Bridgeport, Conn. Schools:
Was bought out after Board of Education refused to extend her contract as Superintendent as reported by the Connecticut Post on 10/29/2004.
In 2003, the Connecticut State Board of Education called for Diaz to explain what her plans were for remedying the "city students' continued failure to meet performance standards" as reported in the Connecticut Post 12/26/2003.
After 3 years on the job in Bridgeport, fewer than one in 20 public high school students in Bridgeport mastered the subject material in four key areas, according to new standardized test results. And results of the latest Connecticut Academic Performance Test also show that barely one in 10 students is mastering one of those subjects. The dismal test results are the latest bad news for a school district that has already recorded disappointing results on standardized tests for students in lower grades. Connecticut Post 10/13/2003
After 3 years in Bridgeport, 21 out of 25 elementary schools failing federal standards. A lower percentage of students passing mastery tests. Higher percentages of high school students dropping out. In raw numbers, at least, the record compiled by Supt. of Schools Sonia Diaz Salcedo during her first three years as the city's education chief would not appear to be anything to brag about. Connecticut Post 10/28/2003
The cumulative dropout rate rose from the Class of 2000, with 23.6 percent, to 32.1 percent for the Class of 2002. Diaz was hired in 2000. Connecticut Post 9/28/2003
A city schools security consultant is being paid $40 an hour in overtime to drive Supt. of Schools Sonia Diaz Salcedo to and from airports. Connecticut Post 5/18/2003
Miami-Dade County Schools:
Was hired in Miami by friend, Rudy Crew, who was a former NYC Schools chancellor and served with Diaz on an Urban School Project. Miami-Dade bought the Houghton-Mifflin "Reading in Progress" program in 2005.
Left Miami-Dade after less than 6 months on the job as Deputy Superintendent for Curriculum. Her leaving was "a mutual decision" according to the Miami-Dade school spokesman.
Las Cruces Public Schools:
Diaz brought in friends as consultants with contracts ranging from $4,000 to $25,000
Diaz used harassment, intimidation, threats, degradation and humiliation to force out Jo Ann Patton, Jack Jenkins and Jerry Laws.
Diaz has behaved boorishly and unacceptably for the Superintendent of Schools in dealings with local workers at various local businesses.
Diaz has threatened, intimidated and humiliated current employees and caused others to resign because of her denigrating and demeaning treatment.
Diaz hired her friend, John Marsilio, for "Business Manager" without posting or calling for applications.
Lied on televised interview regarding the hiring of the "Business Manager"
Marsilio, newly hired "Business Manager", was fired at City of Bridgeport after Mayor Joseph Ganim, for whom he worked, was indicted in a major fraud scandal "Incoming acting Mayor John Fabrizi has fired longtime city Public Facilities Director John Marsilio and told him to vacate his office today." Connecticut Post 4/4/2003
"Fabrizi could not be reached Thursday for comment, but sources close to him said the decision to replace Marsilio is based on a desire to bring in new people and concerns that Marsilio, along with other department heads, did not stand in Ganim's way, or raise red flags, over irregularities in awarding city contracts. During Ganim's trial in U.S. District Court in New Haven, Marsilio's name came up numerous times. Although no one accused Marsilio of criminal wrongdoing, Paul Pinto, Ganim's admitted bagman, said in wiretapped conversations that Marsilio and former Finance Director Jerome Baron were "players," meaning they could be counted on not to make waves." Connecticut Post 4/4/2003
Marsilio is not qualified for licensure as a "School Business Official" in the state of New Mexico. He would have to attend training over a period of years. Some of that training would be provided by employees he now supervises.
Diaz has violated District policy and the state anti-donation law by giving Marsilio unearned vacation leave as a part of his contract.
Diaz has been fiscally irresponsible by taking textbook monies allocated to schools in order to purchase $1 million textbooks for a literacy program. She also tried to inappropriately use federal funds for these textbooks.
Diaz has been fiscally irresponsible in handling her operational office budget. That budget was in the red by August and required an infusion of $50,000 to keep it out of the red.
Diaz has been fiscally irresponsible by not providing itemized receipts for her expense account as generally accepted accounting principles require.
Diaz has been fiscally irresponsible and vindictive by freezing the Bilingual Department budget.