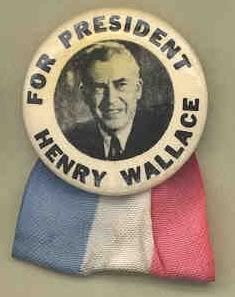 Over the weekend I got to speak to family members who knew more about Jim Garst. It seems that most of my amateur historical sleuthing was pretty accurate. Cousin Jerry talked about Jim's famous relative Roswell Garst who was a partner of Henry Wallace in a very succesful Iowa agribusiness . I didn't know that Wallace had been a Republican prior to his entering FDR's administration. At the memorial service a Columbia Journalism school classmate of Jim's told how he and others were led by Jim on neighborhood excursions to hear working class hero Vito Marcantonio speak in the early 50's. The Sunday Times' has an article with a review of an upcoming book with revisionist take on Power Broker Robert Moses. I guess it's part of the "times." What we really need are more biographies on the likes of guys like Wallace and Marcantonio.
From Wikipedia on Henry Wallace:
"On May 8, 1942, Wallace delivered his most famous speech, which became known by the phrase "Century of the Common Man", to the Free World Association in New York City. This speech, grounded in Christian references, laid out a positive vision for the war beyond the simple defeat of the Nazis. The speech, and the book of the same name which appeared the following year, proved quite popular, but it earned him enemies among the Democratic leadership, among important allied leaders like Winston Churchill, and among business leaders and conservatives.
Wallace spoke out during race riots in Detroit in 1943, declaring that the nation could not "fight to crush Nazi brutality abroad and condone race riots at home."
In 1943, Wallace made a goodwill tour of Latin America, shoring up support among important allies. His trip proved a success and helped persuade 12 Latin American countries to declare war on Germany.
Regarding trade relationships with Latin America, he convinced the BEW to add "labor clauses" to contracts with Latin American producers. These clauses required producers to pay fair wages and provide safe working conditions for their employees and committed the United States to paying for up to half of the required improvements. This met opposition from the U.S. Department of Commerce.
After Wallace feuded publicly with Jesse Jones and other high officials, Roosevelt stripped him of all responsibilities and made it clear Wallace would not be on the ticket again. The Democratic Party chose Harry S Truman as FDR's running mate at the convention, after New Deal partisans failed to promote William O. Douglas."