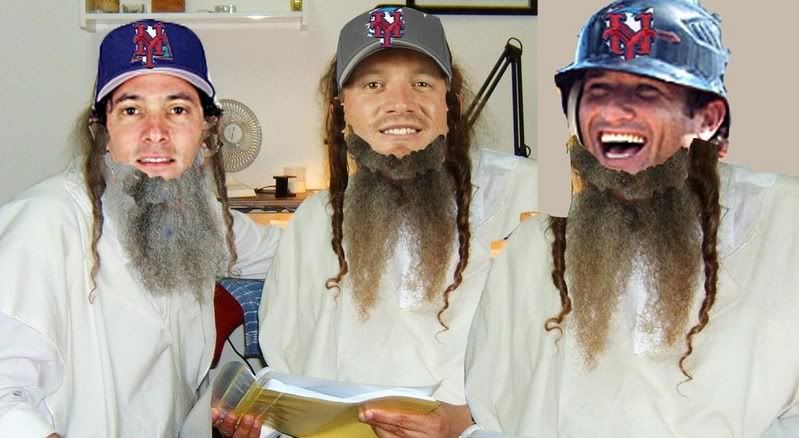 Now we have 3! (however, non are Sephardic and Newhan might lean to being one of those weirdo Jews for Jesus types). From left to right-(actually it should be from right to left) Shawn Green, Scott Schoeneweis, David Newhan. from the nytimes: His Father May Write About It, but Newhan Plays the Game
By BEN SHPIGEL
PORT ST. LUCIE, Fla., Feb. 21 — The father and son walked into Yankee Stadium together and went down a narrow stairwell last August. At the bottom, they paused.
The father, Ross Newhan, a Hall of Fame baseball writer for The Los Angeles Times, turned right, into the press room. His son, David Newhan, a scrappy utility player on the Baltimore Orioles, veered left toward the visiting clubhouse.
For Ross, who considers himself "a nonathletic sportswriter," that moment resonates every time he watches his "genetic miracle" of a son play major league baseball. For his son, it is also special, but it is only one of the aspects of his life that sets him apart from his peers.
Besides being a 10-year-old who fielded fungoes and received batting tips from players like Rod Carew, Newhan is a player who did not receive regular playing time until he was 30. He persevered through a frustrating series of circumstances and two serious injuries, including a broken fibula sustained last season when he slid into second base. Now he finds himself here with the Mets, his eighth organization, and probably on the way to earning a place on the opening day roster.
Newhan's versatility and high-energy playing style make him the favorite to win a bench spot on the Mets, where he would be, at least by family lineage, one of the team's three Jewish players, joining Shawn Green and Scott Schoeneweis. Newhan's religious odyssey, however, has put him so far outside the Jewish mainstream that many Jews probably no longer consider him Jewish.
"I've always been confident in everything I've done," Newhan said. "I knew that I'd make it here someday, and now that I've been here, I love it that much more."
This passion came, he says, from a childhood spent adjusting to baseball's circadian rhythms. On spring breaks, he visited his father in Palm Springs, Calif., where the Angels trained, and swept the clubhouse and served as a bat boy and caught balls with some of the players' sons, including Aaron Boone. He watched his father work and, he said, developed an appreciation for the other side of the game. He takes special care to get to know the clubhouse personnel and is sensitive to his responsibilities to the news media.
"Looking at his quotes over the years, he's kind of a go-to guy," his father said. "I'm proud of that."
Newhan never aspired to follow his father into writing about baseball — "I've seen him curse too many times at his computer," he said — but he still imagined having a future in the game.
He matured into a solid second baseman. But perhaps because of his 5-foot-8, 160-pound frame, and despite being among the top high school hitters in the area, he drew little interest from powerful Division I colleges. He chose to attend a local community college with the hope of earning a scholarship.
When Georgia Tech came calling and promised him the opportunity to play second base alongside a young shortstop named Nomar Garciaparra, Newhan headed to Atlanta. But when he arrived, the coach told him to play first base, and after a difficult season, he transferred to Pepperdine. At Pepperdine, Newhan, a left-handed hitter, added versatility to his game and learned to play the outfield. After a tremendous senior season, he was drafted in 1995 as an outfielder in the 17th round by Oakland, and soon serendipity arrived. The next season, at Class A Modesto, his manager, Jim Colborn, needed a second baseman because a few infielders had not reported. Walking through the parking lot one day, Colborn noticed a truck with the California license plate that read, "LV2TRN2"
"I remember thinking, 'Who was that?' " said Colborn, now the Pirates' pitching coach, in a telephone interview. "Most of our infielders were from the Dominican. So the next day I asked around, and David said it was his. He switched enthusiastically and the rest, they say, is history."
The position change sent Newhan on the fast track toward the majors. Even though he hit 25 home runs that season (more than his teammate, Miguel Tejada), Newhan's offensive production would not have been sufficient to warrant a roster spot. Newhan bounced around the A's organization and was traded to the Padres in 1997. He made his major league debut with San Diego in 1999.
Then, Newhan said, it all started going wrong. He batted .140 in 32 games. The next year he hit .150. He was traded to Philadelphia and made the team out of spring training in 2001, but he injured his shoulder crashing into a left-field wall and missed most of that season and all of 2002 after having his second shoulder operation.
It was about this time that Newhan started reading the Bible for guidance, and soon, he said, "a different train pulled into the station." He still held fast to his Jewish beliefs — he had his bar mitzvah at a Conservative synagogue — but he said that accepting Jesus Christ helped guide him through this rocky period. He observes Passover and Hanukkah and considers himself a Messianic Jew.
"I was a Jewish kid at Pepperdine — God must have been working on me then," Newhan said of his alma mater, which is affiliated with the Churches of Christ.
Even his faith could not provide answers about what happened next. For the Rockies' Class AAA team in 2003, Newhan batted .348 but was never called up. For the Rangers' Class AAA team in 2004, he batted .328 and was never recalled.
He finally took advantage of a provision in his contract that allowed him to seek a major league job if he was not in the majors by June 15. He was signed by the Orioles on June 18 and was promptly ordered to fly to Denver for their game against the Rockies. That night, from his seat in the Dodger Stadium press box, his father tracked the game on his computer. His heart skipped a beat in the ninth inning when his son entered the game as a pinch-hitter. The message "Ball in Play" came up. Ross held his breath. Then the screen flashed, "Home run."
"For the first time in my life, I had to let out a shout in the press box," his father said.
For a long time, Ross Newhan resisted writing about his son. He stayed away from the clubhouse and shied away from writing stories about the team. When Newhan was drafted, Ross volunteered to resign from the newspaper to avoid a possible conflict of interest.
"Could I write honestly about the players union?" Ross said. "In instances where I have to be critical or negative, are they liable to treat David any differently? Can I write honestly about umpires? Is that a trouble spot? How critical can I be about players generally?"
Adhering to his convictions, Ross Newhan refrained from speaking to sources on particular teams, but he relented to write about his son after the home run in Colorado. For Father's Day, he wrote a column that began: "I woke on Father's Day mindful that my son, David, had again sent me some of life's finest gifts. Imagine. He had again found a way to package perseverance, air mail tenacity, deliver dedication."
David Newhan smiled as he recalled the column and said he could not wait for his parents to visit him here next month. He will be playing, of course, but there is a possibility that they may arrive at the field, their shared workplace, together again.