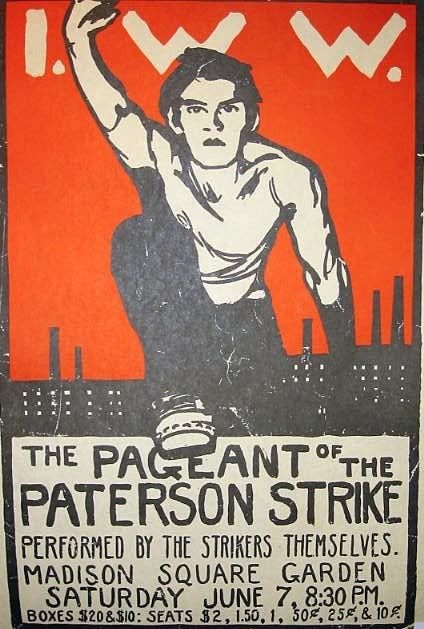 Jim Garst's memorial service was yesterday. It was quite a turnout. Well over 200 people of all walks of life crowded the community room of Columbus Park Towers' Cooperative on the Upper West Side to hear Borough President Scott Stringer, Assemblymen Jim Brennan and Pete Grannis, Council Member Gale Brewer and activist legend David McReynolds speak of Jim's quiet, but heroic accomplishments in saving affordable housing in NYC . Cousin Jerry Breslaw, Paddy Quick and Ed Yaker of the Amalgamated Coops also spoke eloquently. Michael McKee and Lee Chong were the event hosts and there were a host of folks providing some spirited musical interludes, including a rousing Solidarity Forever finale led by Ray Korona, Gil Skillman and David Laibman.
I substituted Utah Phillips' version for this slide show of the event
Solidarity Forever
(Tune: John Brown's Body) (by Ralph Chaplin, January 1915 )(9th edition, 1916)
When the Union's inspiration through the workers' blood shall run,
There can be no power greater anywhere beneath the sun.
Yet what force on earth is weaker than the feeble strength of one?
But the Union makes us strong.
• Solidarity forever!
Solidarity forever!
Solidarity forever!
For the Union makes us strong.
Is there aught we hold in common with the greedy parasite
Who would lash us into serfdom and would crush us with his might?
Is there anything left to us but to organize and fight?
For the Union makes us strong.
• [chorus]
It is we who plowed the prairies; built the cities where they trade;
Dug the mines and built the workshops; endless miles of railroad laid.
Now we stand outcast and starving, 'midst the wonders we have made;
But the Union makes us strong.
• [chorus]
All the world that's owned by idle drones is ours and ours alone.
We have laid the wide foundations; built it skyward stone by stone.
It is ours, not to slave in, but to master and to own,
While the Union makes us strong.
• [chorus]
They have taken untold millions that they never toiled to earn,
But without our brain and muscle not a single wheel can turn.
We can break their haughty power; gain our freedom when we learn
That the Union makes us strong.
• [chorus]
In our hands is placed a power greater than their hoarded gold;
Greater than the might of armies, magnified a thousand-fold.
We can bring to birth a new world from the ashes of the old.
For the Union makes us strong.
• [chorus]