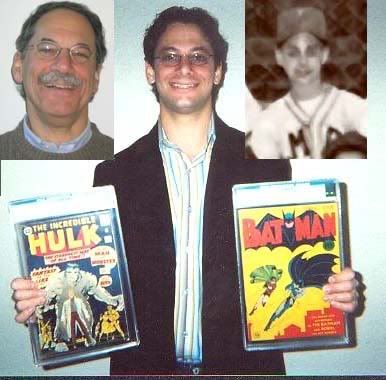 Knickerbocker Village "Son" and punchball legend Bobby Nathanson saw his son married
yesterday. That's Josh, comic book tycoon, holding some of his prize possessions. About Josh "Josh Nathanson was born and raised in Brooklyn, New York. After chance discovery of a Defenders Annual at age 7, he got hooked on comics. Later, he was able to capitalize on his love of comics, his college education, experience on Wall Street and familiarity with the internet to launch his business, ComicLink. In recent years he has become a high-profile buyer and seller of Golden Age, Silver Age and Bronze Age comic books, setting several records in 2004. His site is comiclink.com.
About Bobby (that's him in 1959 in his Little league uniform) "Robert Nathanson has been associate professor of education since joining the faculty in 1986. He received his Bachelor of Arts from Brooklyn College, and he earned his M.S.W., Ed.M., and Ed.D. from Columbia University. Currently, he serves as area coordinator of special education. Nathanson's major interests include psychosocial aspects of disability, vocational preparation and employment of persons with disabilities, preparation of teachers to work in urban communities, and academic preparedness of college athletes. He holds a special fondness for teaching Long Island University's undergraduates, particularly in the introductory course, "Teaching: Imagine the Possibilities" (TAL 201).
Nathanson is associate director of Long Island University's award-winning, federally-funded Special Educational Services Program for students with disabilities, which he directed from 1976-1986. He has received numerous federal, state and foundation grants, and in 1993 he was awarded the David Newton Award for Excellence in Teaching. He has just completed writing, "The College Athlete's Guide to Academic Success: Tips from Peers and Profs," tentatively slated to be published by Pearson Prentice Hall, January 2007. Nathanson lives in Little Neck, Queens with his wife, Janie. He has two grown children, Josh and Amy, who both benefited greatly from education in New York City's public schools.