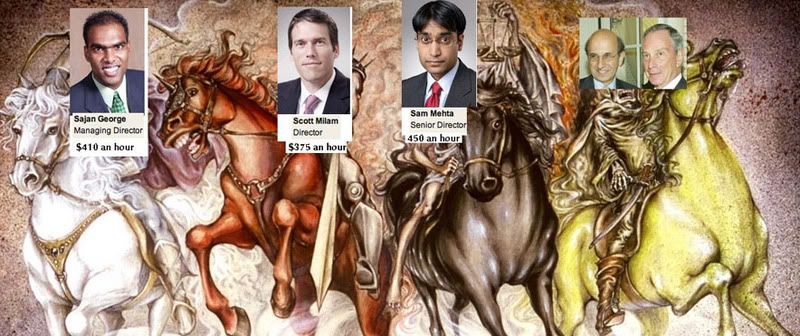 from wikipedia:
The Four Horsemen of the Apocalypse are mentioned in the Bible in chapter six of the Book of Revelation. The four horsemen are traditionally named Pestilence, War, Famine, and Death. However, this is slightly at odds with the conventional interpretation of the Bible, which actually only directly names the fourth: "Death".
from Mike Klonsky's excellent education blog:
"Restructuring" school busing in New York is a disaster, according to the New York Times "Consultants Draw Fire in Bus Woes ". Chancellor Klein has brought in the huckster consulting firm of Alvarez and Marsal, experts in dismantling failed companies and selling them off piece by piece, obviously to do the same to the city's school system. A&M are fresh from the dismantling of the St. Louis school system which has gone from the frying pan into the fire. They are also the brains behind the privatization of New Orleans schools. Schools are supposed to be getting more money from all the savings, but it looks like the only one's making out on the deal are A&M.
According to the Times:
But as the plan in New York combusted this week, leaving shivering students waiting for buses in the cold and thousands of parents hollering about disrupted routines, the complaints threatened to morph into a renewed attack on Mr. Klein's reliance on outside consultants.
The business model...
Private consultants have been at the heart of Mr. Klein's effort to reinvent the nation's largest school system from the beginning of his tenure in 2002. He first turned to McKinsey & Company, then to a team led by a former partner at Goldman Sachs, the investment bank. Later came Alvarez & Marsal with a broad mandate to scour the system for $200 million in savings.
They're everywhere...
Consultants from Alvarez & Marsal are all over the upper reaches of the Education Department. One of the firm's senior directors, Sam Mehta, has essentially served as the system's chief financial officer for the better part of a year, billing $410 an hour. A managing director, Sajan George ($450 an hour), runs the consulting operation with the title of the chancellor's chief adviser on restructuring. Another director, Scott Milam ($375 an hour), served as the chief restructuring officer for pupil transportation.
Give them time...
Tim Johnson, the chairman of the chancellor's Parent Advisory Council, a citywide group, said he did not blame the consultants. "I blame the decision to use them," he said, adding: "We don't privatize police. We don't privatize firefighting. And I think education belongs in that group as something that shouldn't be farmed out to save a few dollars."