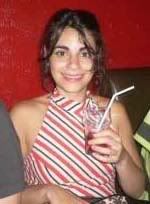 Chestnuts in blossom Holiday tables under the trees April in Paris, this is a feeling That no one can ever reprise
I never knew the charm of spring I never met it face to face I never new my heart could sing I never missed a warm embrace...
lyrics by LES immortal, YIP Harburg (he had never even been in Paris) . That's my 32 year old daughter, living in Paris. Coincidentally, she and her half sister Emma and cousin Melissa all take pride in their Greek background (even though they're only 25 percenters :} Here's what one of Zeva's friendster pals says about her: "Zeva is the best Greek-American girl ever made! She's got this amazing laugh and is always there when you need help...Zeva's just lovely!"