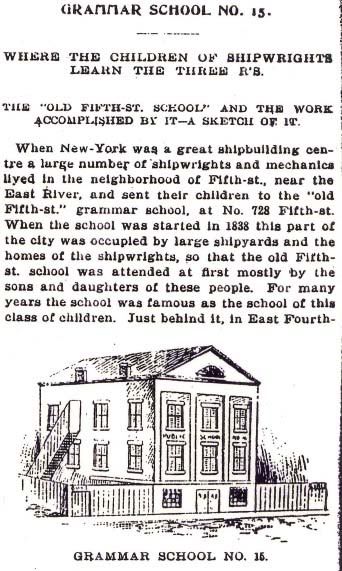 In my "archives" I have a digitized copy of a special edition of the 1896 NYTribune which focused on New York Schools. The image above is part of a story on PS15.
This links to a pdf file with the remainder of that article
(seems like principal Beers was quite a guy) and some additional information on local school history from a 1963 local news article by George Freedman. At one time I thought YIP Harburg went to PS15, but I later found he went to the old PS64 on 9th Street instead. However, according to Freedman, PS15 alumni include Rabbi Stephen Wise, merchant Joseph Bloomingdale and Panama Canal architect, George Goethals!
Here's the slide show on local school history including some archival images of PS 15
I think I should pass this on to the Principal of PS 15