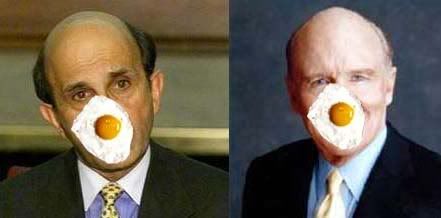 Some synchronicity going on with a recent posting about Stewie Weiner and an article about some failures in the much heralded leadership institute. From the NYTimes:
"The Department of Education said yesterday that it would close five failing high schools, including Lafayette High School in Brooklyn, where teachers and students have sparred bitterly with the principal for months.
Four of the schools, including Lafayette, are being run by principals who graduated from the New York City Leadership Academy, a privately financed training program created by Mayor Michael R. Bloomberg. Department officials said that despite those principals' best efforts, their schools had proved unsalvageable
........In a last-ditch effort to turn things around, Jolanta Rohloff was named the principal at Lafayette in time for the 2005-6 school year. She quickly angered many of her teachers, who complained that they felt belittled after she offered them extra money to decorate hallway bulletin boards, pushed recent immigrants into English-only classes and overruled grades that some teachers gave students. Efforts to reach Ms. Rohloff at her school and through e-mail messages yesterday afternoon were unsuccessful. Mr. Cantor said yesterday that Ms. Rohloff had "performed extremely well in highly difficult circumstances." He said the principals of all five schools would remain as principals, although they could be reassigned to other schools. The preponderance of Leadership Academy graduates among the five, he said, was a factor of the "extremely tough" assignments that the academy's graduates are often given."