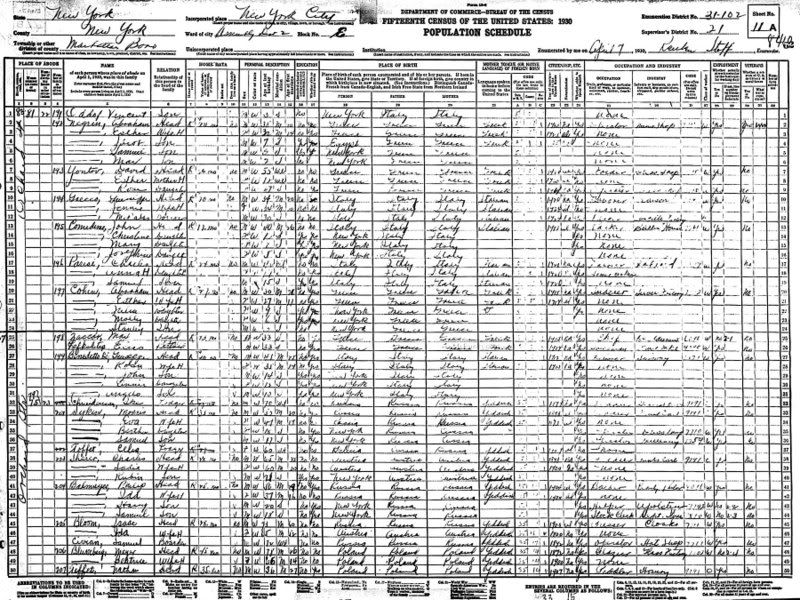 I sent Max Negrin the 1930 census report I found on Ancestry for the building that he lived in. It was part of the material I had prepared for the 8th graders visit to the Tenement Museum (the stuff that went unused) Clicking on the image will enlarge it, but not as much as its original size due to the limits of my image host. It shows that Max's brother, Jacob, strangely, being born in Egypt.
Here's what Max had to say about that:
"Believe it or not, I still remember some of those names. As a matter of fact, if you go down the list you'll see an Abe and Esther Cohen, in the same building. They mistakenly list two daughters and a son, Julia, Molly and Stanley. That son, Stanley, is actually a daughter, Stema, who married your cousin Joe, of whom we spoke. Their three daughters were all slightly older than my parents' three sons, had the same initials (Julia Molly, and Stema... Jacob, Samuel, and Max.)
The census takers had their hands full getting information from immigrants, many of whom spoke little or no English. Fortunately, my father, was a citizen, having fought in WW1 for the U.S. and was an accomplished linguist. He spoke and wrote in 7 languages (even worked as an interpreter during the '39 World's Fair). ...and my oldest brother, Jake, is a citizen, by virtue of his having been born in an American Army hospital in Cairo. He came here when he was around two. In those days, it was different where bestowing citizenship was concerned. My mother was given citizenship through her marriage to pop. She was also a linguist, but spoke and wrote only five languages. They used to communicate to our Italian and Greek and Spanish Ladino) and Arabic neighbors' families in Italy, Greece, Turkey, and Egypt for them."