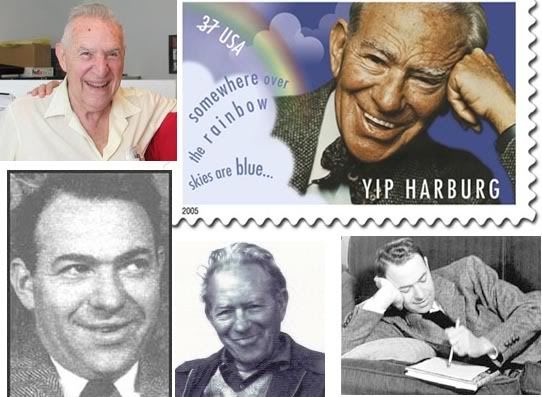 by Yip Harburg
On the day I was born
set me father said he
I've got an elegant legacy waiting for me
it's a rhyme for your lips
it's a song for your heart
to sing it whenever the world falls apart
look, look , look to the rainbow
follow it over the hills and stream
look, look, look to the rainbow
follow the fellow who follows our dream
I followed a little dream today and came up with a pot of gold.
Armed with the newly discovered information from the federal census about the addresses where Yip Harburg lived in 1900 and 1910 I set off to photograph them.
Google Earth showed that the buildings were still there, but were they the originals?
Sure enough they were! Yip lived at 84 Hester in 1900. He was listed as Isy Hachberg? So often there was miscommunication between the census takers and new immigrants. In 1910 he was listed as Isidore Hochberg and he lived at 649 E. 9th Street.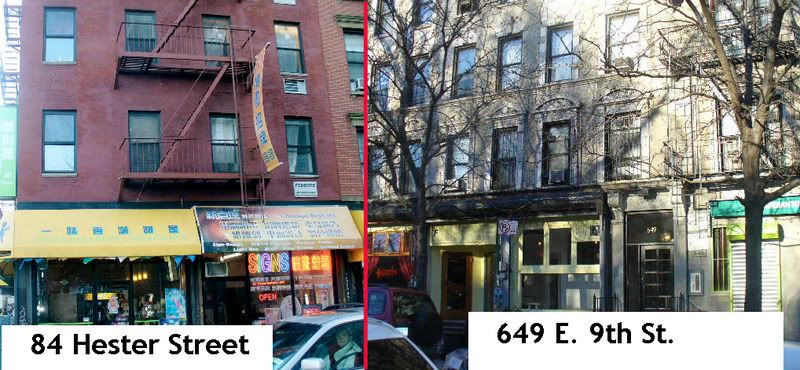 Here are portions of the census images
The ground floor of 649 E. 9th Street houses an intimate jazz club that's gotten good press. It's called "649." The owner is a young guy in his 20's. I called the club with my excited discovery. My fantasies were that it would be renamed Yip's Place and that it would be decorated with photos of Yip. After all, most jazz musicians, whether they knew it or not, would have in their repertoire some of Yip's songs. I set myself up for a fall. The owner never heard of Yip Harburg. I emailed him my census info and the yipharburg.com site to help with his education. If you have never heard of him you have (as Desi would say) "Some learning to do." Yip has got to be in the top 5 of American lyricists along with Ira Gershwin and Lorenz Hart. A great friend of Ira Gershwin, Yip went to PS64, while the Gershwin's went to PS20. Later he would sit next to Ira at Townhend Harris High Schhol. What's also special about Yip was his political and social activism. Blacklisted in the 50's I remember hearing him in the 60's and 70's speaking out against the war and civil rights' injustices. How cool it was to have this guy in his 70's siding with the kids when most folks that age had retreated from their own youthful idealism (like my own father who worshipped, sadly, Bob Grant). Let me stop pontificating and get back to the pot of gold. With no one to share my bounty I remembered that Yip's son Ernie and his daughter-in-law, Deena Rosenberg, lived in the East Village. I had met Deena years ago when she was involved with a laptop program she coordinated out of NYU. She also wrote an excellent biography of the Gershwin's, "Fascinating Rhythm : The Collaboration of George and Ira Gershwin." Sure enough, with a little online help I found their number and called and had the greatest conversation with Ernie Harburg (that's him in the collage above on the top left). I emailed him the census reports and building photos and he's sending me his own crtically acclaimed biography of his dad entitled, "Who Put the Rainbow in The Wizard of Oz?"