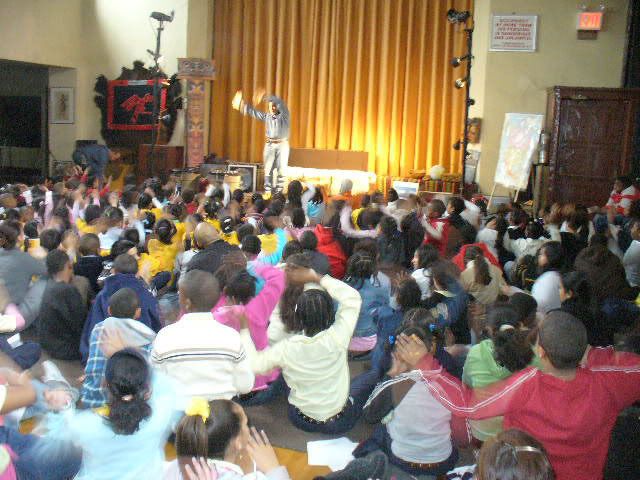 This goes into the category of "You can live in New York your whole life and still discover amazing places you have never seen." I went along with the fourth graders to this museum on Monday and was really pleasantly surprised. It seems like these two guys, Norman and Tommy, run this tried and true program on a shoestring-yet it really connects with the kids. No fancy multimedia and laser lights, just two guys who know how to talk and relate to children. This is from their site: http://www.cmna.us/School_Programs.htm
"A special interactive program based on audience participation has been developed for school groups visiting the Museum.  The program reinforces the social studies curriculum of the schools and makes learning about the American Indian an exciting educational experience. Each year the Children's Museum emphasizes a different geographic area of Native American culture.  Past programs have included shows on the Eskimo as well as the Eastern Woodland, Southwest, and Plains Indians.  This year's program is about the Indians of the Northwest Coast and is presented in three parts: an artifact demonstration, a puppet show, and an Indian workshop." Norm reminded me a little of John Nagy who used to do a television show on how to draw about 100 years ago. I liked his politics as well.
PS. While there I noticed a nice group of 4th graders and teachers from Brooklyn. (BTW, Pacheco's and Rizzo's 4th graders rock too).
Enquiring minds like to know, so I asked where they were from. They were from PS 13 in Region 5. Synchronicity! I asked, "So is Kathleen Cashin as good as the Times' article stated, or is that just a lot of hype. "No, she's great and very down to earth. She's often in our school"
Now mind you, I've been in Region's 9 and 10 for the last 3 years in several schools. I've seen a Regional Superintendent once and that was only because my principal at the time hounded him into coming to see our school's learning fair. A neighborhood friend of mine spotted that same superintendent at a gym at 9:00 AM on a school day. Working out hard for that $175,000. Maybe he was recruiting.
Here's a slide show of part of the going's on at the museum.
The soundtrack comes from the cute puppet show that was done