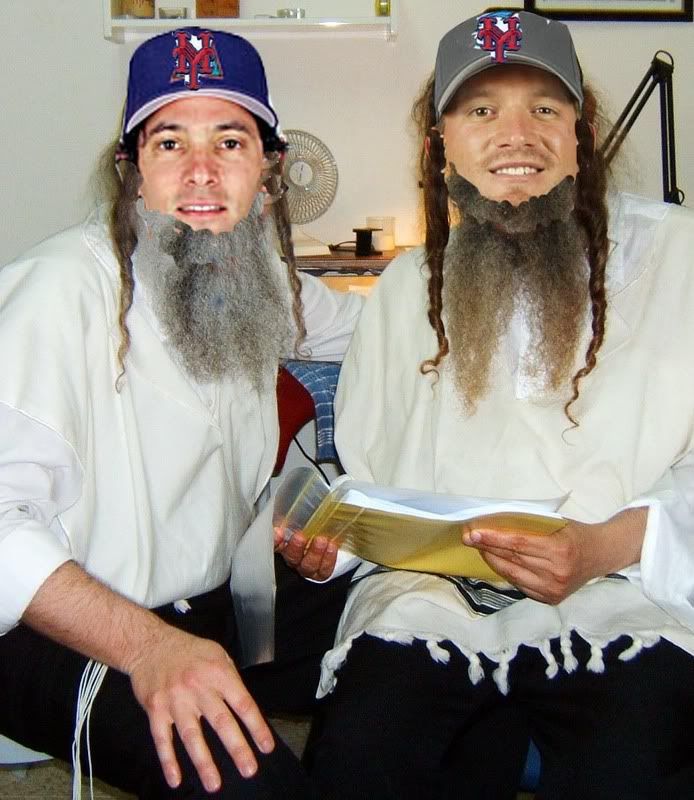 While the rest of the sports' world watches boring football and basketball games and gets all worked up over David Beckham, the real sports story is another ethnic nyc baseball coup by Mets' GM Omar Minaya. The Mets are now the proud possessors of two of the existing 13 major league baseball players, Shawn Green and the recently acquired Scott Schoeneweis. I'm not quite sure but this tandem of landsmen is the first in NYC since the Sherry brothers and Koufax played for the Dodgers. Here's a recent article on the state of Jewish big leaguers:
"One of the ways rabid baseball fans get through end-of-the-season withdrawal pains is by immersing themselves in player stats and award announcements. It's time to do the same for Jewish players.
There were 13 Jewish major leaguers this season: six pitchers, two catchers, three outfielders and two infielders. None of them, alas, came close to making a serious run at any major award, but we'll remedy that situation by handing out awards for the top Jewish players. First the stats.
Starting pitchers:
• Jason Marquis of the St. Louis Cardinals recorded his third consecutive double-digit win season, but it was not a particularly successful year, since he went 14-16 with a 6.02 ERA.
• Jason Hirsh made his major-league debut with Houston on Aug. 12 and finished the season at 3-4, with an ERA of 6.04.
Incidentally, his catcher on Aug. 12 was Brad Ausmus, making this what is believed to be the first Jewish pitcher-catcher combo since Sandy Koufax and Norm Sherry in the early 1960s.
Relief pitchers:
• Veteran lefty Scott Schoeneweis appeared in 71 games for Toronto and Cincinnati, with a record of 4-2 and an ERA of 4.88. He was particularly effective in his 16 appearances with the Reds, notching two wins, three saves, and an ERA of .063.
• Left-handed reliever John Grabow, in his third full season with the Pirates, pitched a total of 69 2/3 innings in 72 games, with a record of 4-2, two blown saves, and an ERA of 4.13.
• Craig Breslow, the Yale-educated lefty relief specialist for Boston, made his Red Sox debut July 14 as one of three Jewish Red Sox on the field at the same time. He appeared in 13 games down the stretch, finishing with a record of 0-2 and an ERA of 3.75. He was unscored upon in 10 of 13 appearances.
• Scott Feldman, a 2005 late-season call-up, spent most of 2006 in the bullpen for the Texas Rangers. In 36 appearances he hurled 41 1/3 innings and was 0-2 with a 3.92 ERA.
Catchers:
• Brad Ausmus, the "dean" of Jewish major leaguers (he debuted in July 1993), continued as the first-string catcher for the Astros, appearing in 139 games and batting .230, with two homers and 39 RBIs.
• Mike Lieberthal shared catching duties for Philadelphia, appearing in 67 games and batting .273, with nine homers and 36 RBIs.
Outfielders:
• Shawn Green, who hit his 300th homer in 2005, notched RBI number 1,000 and hit number 1,800 in 2006, while finishing the season with a batting average of .277 with 15 homers and 66 RBIs. Green was traded from Arizona to the New York Mets during the summer, and was warmly welcomed by the New York media and Jewish community.
• Gabe Kapler was a back-up outfielder with the Red Sox, hitting .254 in 72 games.
• Adam Stern made a few Web-gem catches for Canada in the World Baseball Classic and appeared in 10 early-season games with Boston, mostly as a pinch-runner and late-inning defensive replacement.
Infielders:
• Three-year Red Sox veteran Kevin Youkilis shifted from third base to become a fine defensive first baseman and excellent lead-off batter. "Youk" batted .279 with 13 homers and 72 RBIs. Among Boston batters, his on-base percentage of .381 trailed only Manny Ramirez and David Ortiz.
• Rookie Ian Kinsler was the Texas Rangers' regular second-sacker for virtually all of 2006. He finished the season with a .286 batting average with 14 homers and 55 RBIs.
Our solution to the drought of Jewish award winners is to create our own awards.
We're naming the Jewish MVP award the "Hank and Sandy," after Greenberg and Koufax, and giving it only in years when a Jewish player has indeed proved to be extremely valuable.
We actually do have a winner this year. The winner of the 2006 Hank and Sandy Most Valuable Jewish Player Award is incontestably Youkilis.
The Jewish Rookie of the Year is in honor of the Jewish player with the greatest rookie season — Al Rosen, who led the American League in homers in 1950 but lost out to Walt Dropo as Rookie of the Year. The 2006 Al Rosen Award for Jewish Rookie of the Year goes to Kinsler.
Our annual award for Jewish pitchers is the Pelty/Holtzman award, named for Barney "the Yiddish Curver" Pelty, who is the Jewish pitcher with the lowest ERA of all time; and Ken Holtzman, the all-time winningest Jewish pitcher.
This was a close race between Marquis and Schoeneweis, but because of his important role as the Cardinals' fifth starter, the award goes to Marquis.
As consolation to Schoeneweis, he shares with Shawn Green the Dave Roberts Wandering Jew award, named in honor of the 1970s pitcher who played for a Jewish-record nine franchises. Both Schoeneweis and Green are now with their fourth major league teams."
by Martin Abramowitz