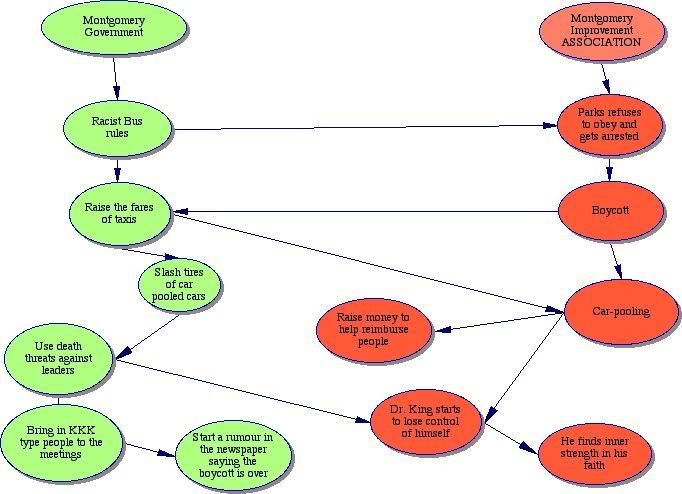 I like to think that as a technology integration guy I'm always prepared for the teachable moment (my apologies for jargon). I just realized that the doe now has powermedia plus and I like this blurb from their site."The PowerMediaPlus.com curriculum integration tools allow me to build connections between the classroom and digital media content on the fly," said Marie Spinelli, eighth grade teacher, Our Lady of Peace School, Milmont Park, Pennsylvania. "With access to all media types, I can easily create lesson plans, assignments, and quizzes that accommodate different student learning styles. The audio collection, in particular, offers flexible opportunities for enhancing my daily lessons since the file sizes are small and the content is easily portable on MP3 players. The content includes all core subject areas, which complements my cross-curricular teaching." Unfortunately not too many folks get the chance to do this because of the tc shackles.
Well, I was all ready for Dr. King's birthday with stuff a lot more exciting then what you find on powermedia plus. In addition, I have my favorite teacher, Ms. Watson, back in the 6th grade, ready to use my expertise. I pulled "Boycott" from my bag of tricks. We did a lot of "Stop and Jot" and it occurred to me as we watched it that there was this attack-counterattack dialectic occuring in the film and I built this (above graphic) in Inspiration as we went along. We almost made through the whole 6th grade (50 kids or so) in an intensive day. Some tough to attend "cases" were transfixed and they had some insightful comments.
At 2:30Pm on Thursday my favorite DOE AP Jonezy played Stevie Wonders' "Happy Birthday" to honor Dr. King over the school intercom and I was able to bring up the lyrics quickly in Ms. Watson's class on screen for a sing a long. Loved it! They don't teach that in the Leadership Institute!