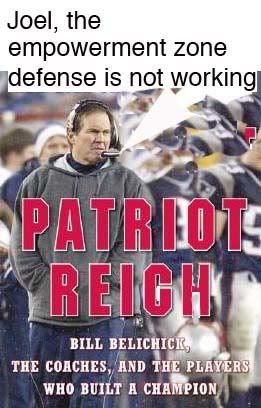 Not known publicly, but Bill, known for his autocratic manner, had been a guest lecturer at the Principal's Leadership Institute. While there he was introduced to the highly touted empowerment zone defense. From Wikipedia: "In addition, Belichick is sometimes criticized for his demeanor towards the media and towards opposing team's coaches. In the Patriots' previous two 2006 regular season matchups against the New York Jets, Belichick gave Jets' head coach Eric Mangini the "no-look handshake" . On January 7, 2007, when the two teams met again in the playoffs, Belichick decided to exchange a congratulatory hug with Mangini, but in the process pushed a photographer out of the way. [5].
San Diego Chargers running back LaDainian Tomlinson called out Belichick after his Patriots defeated the Chargers in a 2007 AFC divisional playoff game and celebrated on the field after kicker Nate Kaeding missed a 54-yard field goal attempt that would've tied the game as time ran down in regulation. "I would never react in that way. I was very upset," Tomlinson said. "When you go to the middle of our field and start doing the dance Shawne Merriman is known for, that is disrespectful. They showed no class and maybe that comes from the head coach[
On July 20, 2006, a New Jersey construction worker accused his wife in divorce proceedings of having a four-year affair with Belichick. Belichick met Sharon Shenocca, a former receptionist for the New York Giants, while the defensive coordinator of that team[7]; the plaintiff later amended his complaint to include adultery among the grounds for divorce."