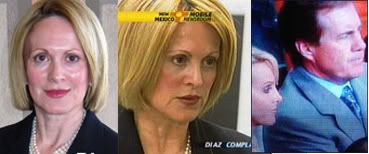 On the left above is Sonia Diaz, currently chief academic officer and professional development head in Baltimore, part of Andres Alonso's staff. "If only those Baltimore teachers could collaborate and get some good staff development." In the right of the pic is Bill Belichick, (aka Belicheat).
A previous post in regard to them
An update on Sonia from yesterday's Baltimore Sun,
emailed to me by an anonymous Las Crucian:
N.M. firing of schools official Diaz is upheld
Baltimore County Digest November 1, 2007
The firing of a Baltimore County public schools official from her previous job as superintendent of a New Mexico school system has been upheld.
The Las Cruces, N.M., school board was justified in dismissing Sonia Diaz in November 2006, four months into her tenure as superintendent of that state's second-largest school system, a retired judge acting as an arbitration hearing officer found. Diaz, who said she was informed of the decision Tuesday, declined to comment yesterday on the ruling. Hearings in the independent arbitration were held in August, Diaz said. The ruling is considered binding but can be appealed in New Mexico's courts, beginning at the local district court level.Diaz declined to comment on whether her attorney plans to file an appeal.
An update on Belicheat. That's his girl friend, Sharon Shenocca (actually maybe his ex, because he's supposedly moved onto someone named Janet Holliday). The house he bought for her is close by on 6th Street in Park Slope.(the photo from a 9/14/07 article) He's probably still getting professional development from her. Get your minds out of the gutter. She probably an expert on how to steal opposing teams' signals.