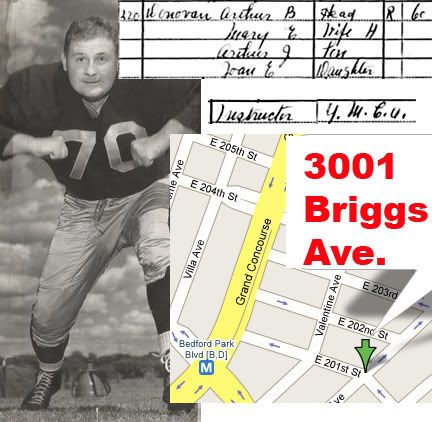 There hasn't been a synchronicity tag for a while. I was looking up info on Donovan and found he was born in the Bronx! I searched census records in 1930 and found him living at 3001 Briggs Avenue. The record notes that his dad was an instructor at the YMCA. I was probably within a mile of his house yesterday! Notice how almost all history defaults to NYC History.
Some of Art's bio
Art's grandfather, Professor Mike O'Donovan, was the world middleweight boxing champion in 1881 following a career as a teenage Civil War soldier. For 100 years combined, Art's father and grandfather held the position of boxing instructor at the New York Athletic Club. The Professor was Teddy Roosevelt's personal boxing coach.
Art's father, Arthur Donovan, Sr., was the most famed prize fight referee in the history of the game, presiding over eight world heavyweight championships and being the only referee inducted into the International Boxing Hall of Fame.
During his pro football years, Art Donovan was one of the true "Gentle Giants"--feared on the field, but admired everywhere else for his generous and outgoing personality. For more than a decade, the defensive tackle was unstoppable. On the field, his 265 pounds and 6'2" stature frightened the opposition off the field, however, his smile and jovial nature attracted thousands of fans.
Art Donovan joined the National Football League's Baltimore Colts in 1950. The team moved in 1951 to become the New York Yanks and relocated again in 1952 to become the Dallas Texans. The team returned "home" in 1953 as the Baltimore Colts.
During his 12-year tenure in the pros, Art Donovan was named Outstanding Defensive Tackle. Between 1953 and 1957, he was chosen to play in five pro games plus the World Championships in 1958 and 1959. Memories of Art in the "greatest game ever played," the Baltimore Colts vs. the New York Giants in 1958, will never be forgotten.
In 1962, the Colts retired Art's uniform number "70" when he departed from pro football. Five years later, he became the first Baltimore Colt to receive the sport's grandest honor--membership in the Pro Football Hall of Fame.