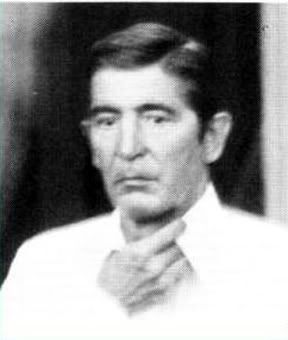 I didn't realize that there
was a wikipedia entry for Knickerbocker Village.
It's a pretty bad one, its very incomplete and its list of notable residents concentrates on members of the Bonanno crime family. Nevertheless, I thought I would recognize their notoriety and do a feature on some of these guys.
from wikipedia
Benjamin "Lefty Guns" Ruggiero (April 19, 1926 Little Italy, Manhattan- November 24, 1995) was a member of the New York City Mafia. He was portrayed by Al Pacino in the movie Donnie Brasco. Benjamin was born and raised in Little Italy, Manhattan, in 1977 Ruggiero became a 'made'man in the Bonanno crime family, one of the Mafia Five Families in New York City. Involved in bookmaking, extortion and loansharking, Ruggiero spent most of his money on his gambling habit.Benjamin stood six feet tall, was lean-bodied and had a narrow face with intense eyes and slightly stooped shoulders. He lived on the seventh floor of 10 Monroe Street. He spoke in a cigarette-raspy voice. He had a thirty-three inch waist and wore a 9 1/2-inch D-sized shoe. He was once a close friend of Anthony Mirra but sometime before 1975, became worst enemies. He owned 20% of a fishery in the Fulton Fish Market and received a $5,000-a-month paycheck for a "no-show" job there. He also had a social club located at 43 Madison Street, which was conveniently located just up the street from Anthony Mirra's Bus Stop Luncheonette.
Troubled Maritial Life & Fatherhood
He had been married to his first wife "Mrs. Sbano" until the 1950's who bore him four children, Thomas, his only son born c.a. 1949, and three daughters, his youngest was born c.a. 1950. He lived with his girlfriend and future second wife, Louise; and although he had no sensitivity towards her, he was apparently very protective of her and quite faithful. Benjamin continually sought Pistone for advice about his son. Benjamin was boat enthusiast who owned a cigarette boat anchored in the East River. In September of 1977 he married his long time girlfriend Louise in a small ceremony at city hall, for which Joseph Pistone was best man. Benjamin had never served time in prison until his1982 conviction which resulted from the Donnie Brasco investigation. He had been arrested on charges of theft and extortion, but always beat the case. Benjamin struggled with rehabilitating his son Thomas, and in 1979 finally got Thomas off his heroin addiction and sent him to a rehabilitation center in Hawaii. Benjamin got Thomas a steady job at the Fulton Fish Market, and Thomas later had a child by his common-law wife. Later that year Benjamin started receiving calls from his daughter-in-law who told him that Thomas had not been coming home for days at a time, or providing food for the child. Thomas had become addicted to heroin again.
Gambling Addiction
He was a degenerate gambler and in 1977 was indebted to Nicholas Marangello for $160,000 from the horse races at the Aqueduct Racetrack. His gambling addiction was so bad that it delayed his initiation in becoming a made man, and therefore he was "put on the shelf" until he could pay off his gambling debts. He successfully paid back a majority of his debt and was finally initiated in the summer of 1977. In 1978 though he had fallen into debt again from his addiction. Nicholas Marangello arranged to have a portion of his criminal operations to be taken and directly applied to the enormous debt. Because of this Benjamin never possessed anything of value, except what he could hide from Michael Sabella and Nicholas Marangello. Benjamin was always planning and scheming on how to make money. In 1978 his son Thomas was arrested for armed robbery in Manhattan. He robbed a diamond merchant who was an associate of another mob family. He openly admitted to Pistone that he felt threatened in the presence of Frank Balistreri. He later changed his social club into a candy store and gave it to his daughter to manage. From the store he started a bookmaking operation with Pistone and two other mobsters. By 1979 he was thrown out of his bookmaking operation because he could not come up with the initial investment of $2,500. He was a close friend a companion of Phillip Rastelli before Phillip had been incarcerated in 1975 for extortion.
A Family Man
Ruggiero had four grown kids. His youngest daughter, at the time of the events portrayed in Donnie Brasco, was in her mid-twenties and lived with his ex-wife in the same building as her father and worked at a hospital. Every year she managed a booth at the Feast of San Gennaro where she sold soft drinks and fruits. Two of Lefty's daughters were married to members of the mafia, and one was married to Marco. Marco was an expert safe-and-lock man, a drug dealer and loudmouth. He led a flashy life vacationing in Florida where he owned a big boat. But one day Marco disappeared. It is assumed that his bosses discovered that he was skimming drug profits and cheating the organization. Reportedly the Bonanno family asked Ruggiero himself to eliminate Marco. In any case, Marco was never seen again and his body was never found.
Taking a stand in Civil Mafia Turmoil
The Bonanno Family underwent great turmoil in 1979 when its head, Carmine Galante, was murdered, which created a power vacuum. Phillip Rastelli took over, running things from prison, but the Bonanno Family was split with one faction supporting Rastelli and the others not accepting his leadership. Ruggiero joined up with Sonny Napolitano's crew, who supported Rastelli. Ruggiero is believed to have taken part in the murder of three mobsters who did not support Rastelli, which seemed to finally settle the row and get everyone in line behind Rastelli.
Relationship with Joseph Pistone
During this time Ruggiero had acted as the mentor and sponsor of a man named Donnie Brasco, who seemed to be a dealer of stolen jewelry and who looked on course to being a 'made' member of the Mafia after he impressed Napolitano. One day, however, 'Donnie Brasco' dropped out of sight and Ruggiero and his associates were told that Brasco was actually an undercover FBI agent. Panic set in and Sonny Napolitano was murdered shortly afterwards as punishment for being so foolish as to fail to spot an undercover FBI Agent in his midst after all this time. The FBI suspected Ruggiero would suffer the same fate so, for his own protection, they took him into custody on August 30, 1981.
Incarceration and death
Benjamin "Lefty" Ruggiero was sentenced to 20 years imprisonment after turning down an offer to become an informant. He was released from prison on parole in 1992 after serving eleven years and died of lung cancer on November 24, 1995, aged 69.