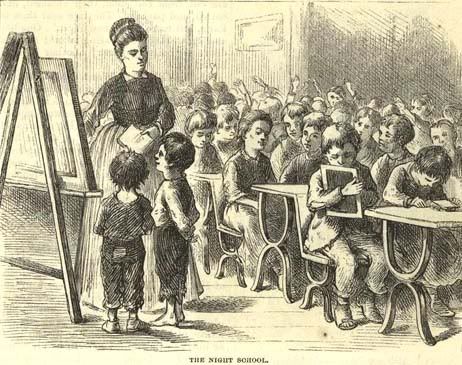 From
New York Magazine
The agency responsible for figuring out where the city's kids go is the School Construction Authority, a slow-moving outfit that relies on a murky stew of formulas that take into account capacity and enrollment projections. It's becoming apparent that these models neither do the job nor allow for the huge demographic shift that's going on. For starters, those enrollment projections, which the DoE compiles with the consultancy Grier Partnership, are extrapolated from birth rates and the number of kids who move from one grade to the next. Grier does not count housing starts in a meaningful way. Although the DoE maintains that it factors in new ys Sandra Levy, a member of the school's Leadership Team. "And because we are a catchment, anyone [within the limits] can register and we have to find a place for them. It ends up very detrimental." So in the case of P.S. 199, there are no plans to build or expand. According to the DoE, the school has space for 621 students, and it has 587 right now, so there's no problem. And when parents reared up to ask Joel Klein about the issue at a recent community-education-council meeting, they say his answer was succinct: "Send your kids to private school." (Klein's office flatly denies the remark, calling it "completely inconsistent with his values and obvious commitment to public education.")

So now what? Elsewhere in the country—in Florida and Georgia, for instance—developers have to pay impact fees when they build houses so new infrastructure can be created to serve the growing public. But no such policy exists here. School catchments could be redrawn to better distribute the population. But you know what would happen then: "If [owners] have property in a desirable catchment … they'd certainly fight it if they wouldn't be able to go to that school," says one parent. Can you imagine how they would squawk if, redirected to a less desirable school, their apartments suddenly lost that extra 10 percent of their worth?

Developers could be asked to add schools to their construction projects, but there's been little movement in that direction. (Sheldon Solow recently agreed to add a school within his Con Edison project to take some pressure off P.S. 116, but its 650 seats will hardly accommodate all the new kids.) An annex has been built here and there—Tribeca's P.S. 234 just opened one—but "what you see are stopgap measures in an attempt to deal with the building boom," says Garodnick. "What we need is a long-term plan."

For now, that plan is even more stopgap. At P.S. 199, only two rooms remain available for expansion: the music room and the remaining art studio. Most likely, they're done for, since next year, the school will need two more classrooms for first and fourth grades. And the condos are still being built. "By the time these people move in," says Mallin, "the school will not meet their expectations, simply because it's overcrowded. At the rate it's going, by 2009, there will be no classrooms left."

E-mail: jhoanna.robledo@nymag.com.
Reader's responses:
This article succinctly states a pressing and current problem. I am a parent of a PS41 student (in Greenwich Village) and I am eyeing St. Vincents Hospital's new development plan nervously, specifically for this reason. The Rudin Family plans on adding between 400 and 500 new residential units on the very block that PS41 occupies, and when they are questioned at community meetings on the impact on the local schools, they effectively pass the buck to the City, and urge residents not to conflate the issues. OK, no surprise, the developers aren't looking out for local kids--that's not their job. But surely it is someone's job, and I'm not sanguine that that individual is currenly awake.
Report
By papabear on 11/26/2007 at 8:03am
*
It seems to me that ths is a City Planning issue, and that someone in the city is happy to see buildings go up to bring in revenues, but won't spend the moeny to provide services to those who live in them. I wonder whether we are also getting shortchanged on other services, and just don't notice. As far as schools go. My daughter does to one of the listed overcrowded schools and I constantly have a nagging feeling that she gets lost in the crowd. This is not the fault of the school or the teachers, but of someone up there who is requiring that teachers do more and more while having to manage 30 kids. How long would it take any of us managing 30 people to figure out which ones are doing well and which are just getting by?
Report
By BNYC on 11/26/2007 at 10:08am
*
I was at that meeting where Klein supposedly said "send your kid to private school" Even if he said it, it was not in reference to PS 199 in anyway. The reporter must be in error or be referring to another P.S.
I am a parent of a PS 199 kid and am sure that if the city, developers and school community leaders would get together, it would be a win-win-win for everyone. For the school (more room), for the city (end of a growing problem and retaining upper-middle class taxpayers), developers (nice tax break or more $$ opportunities to build higher to accomodate a school annex.)
Report
By ericmosk on 11/26/2007 at 4:41pm
*
I am a parent of a PS116 student. My daughter, who is in the Talented and Gifted program, had a wonderful first year with only 22 students in her class. Now, just one year later, there are 28 students in the kindergarten classes and only one Talented and Gifted Class. My 4 year old will be entering PS116 next fall and I am saddened that her experience will be so very different then my now 1st Grader. Overcrowding is a serious issue and no one seems to want to admit that it is even a problem. Getting rid of Science labs, art rooms, music rooms, gyms, etc. THAT IS A RIDICULOUS SOLUTION!!!!! We live in New York City because of the amazing exposure to Art, Music, Dance, Theater, Museums, etc. Why are these things disposable in the Public School system? I was at the Board of Education Meeting where they rolled out their Science Initiative. It seemed wonderful on paper that every school was going to get a Science Lab, etc. Now, not even one year later, schools that actually had Science rooms/labs are forced to get rid of them to make space for additional class rooms. Where are the priorities here? I agree that poorer performing schools need to be fixed, but that does not mean the city can turn a blind eye to the wonderful schools that are in serious danger of losing the things that make them wonderful schools. I hope Chancellor Klein and Mayor Bloomberg open their eyes to this overcrowding issue.
Report
By shbrowne on 11/26/2007 at 8:06pm
*
When my eldest child now 14 attended 116 there was only 23 students in his class, now my youngest in Pre-K has 28 students in his class. Its really frustrating I cannot help my sons kindergarten teacher. Letters going home every week asking for donations so our kids can have an assistant in class is just so frustrating since financially I cannot assist. Great teachers, great neighborhood will eventually turn out to be a not so good school district. The city and its administration really dont care about the children, they are much more concerned with their pockets. Noting our system still needs much improvement, why mess up something good!
Report
By RESIDENT444 on 11/26/2007 at 9:15pm
*
I am a parent of 2 children at PS 116. I now have a kindergarten child in a class with 28 other kids and after visiting one afternoon it amazes me how the teacher does it. It is nearly impossible to keep track of students when some of them are still 4 years old. Ten years ago the city schools were not in demand and most people moved out of the city to the suburbs. Now these great schools are not only keeping people in the city, but the new buildings are attracting families back into the city with high rents and high mortgages because of these schools. It seems if we don't nurture these schools they will eventually end up back at the sub level they used to be and everyone loses. Something has to change NOW! I know in this city every change requires layers of approvals, but our children don't have that time to wait. Hopefully this article will be the first of many that will raise attention to this situation. The last thing we want are schools without science, art or music.
Report
By waterside on 11/26/2007 at 10:21pm
*
There is a disconnect between developers advertising the good public schools as a selling point, yet not being forced to improve infrastructure in their communities, ultimately detrimental to that real estate holding its value.
To keep perspective on the education, however, let's remember that the schools mentioned earned their reputations not by their "amenities" but by the quality of instruction. I don't believe these schools are at risk for losing their arts and science programs, they are at risk for losing the classroom space. Average science instruction in a dedicated science classroom is inferior to great science instruction in a regular classroom (or lunchroom).
Report
By cornell93 on 11/26/2007 at 10:25pm
*
How can we as concerned parents influence the city to do something to relieve the overcrowding? My son will (hopefully) start at PS 199 in a couple of years. Last week I was at a community meeting with the developers of a new highrise rental in the area. When asked if a school could be put in the building, which hasn't been started yet and is asking for a variance to include retail space, he responded "No, the plans have been ready for 18 months, you should have asked 18 months ago". How the plans could be set in stone when they've yet to get a variance for retail I don't know.
Does anyone know of groups that are trying to work with this city to see the error in their population growth projections and build more schools?
Sending your kids to private school isn't the answer. They aren't being built either and unlike public schools they stop taking kids when they reach capacity. More parents who would have opted for private schools will be forced to use the public ones.
Report
By ProudParent on 11/27/2007 at 10:40am
*
Absolutely illogical how we can plan for new bank branches, Starbucks, drugstores once a development goes up but not for school accommodating the inlfux of new families. Already the public schools are overcrowded and many at or over capacity - what does it take to get some growth in that sector? The chancellor should not wait until it is broken, at the expense opf many children, to address and fix this problem.
Report
By Gradmom on 11/27/2007 at 10:47am
*
Before the city grants permits for a new high-rise development, the impact of said development should be assessed by the appropriate city officials. Schools should be one of the top sectors studied in such an assessment. Obviously, they do not seem to be.
Regardless of whether new condos or co-ops are a contributing factor, schools in this city have been suffering from neglect for some time: over-crowding, extremely high student to teacher ratios, woeful under-funding, you name it. Fact is the city does not seem to make this a priority. I say, hold them accountable for fixing the school system, not the developers. If one of the side effects of this new focus on education means the city becomes more judicious in dolling out new building permits...so be it.
Report
By ormsbee on 11/27/2007 at 11:02am
*I am a mother of a first-grader at PS 116, a New York City resident for 17 years, and a taxpayer. I did not major in political science, nor did I get a masters in teaching. Is it not the responsibility of the city government and the Dept. of Education to provide our children with a good education? I do not want to spend my days petitioning and rallying the community to fight for more schools. Our elected officials simply need to walk along the avenues, go to drop-off and pick-up, and visit our schools while they are in session. Take a look...28 children is not an acceptable class size. I don't care if every child in the classroom is pulling straight A's. My daughter is bright; she's in a G&T class and has mastered quite a bit for her young age. Her teacher has yet to take the time to say "nice job" because she's too busy trying to make sure all of the students will be prepared for the tests they'll be taking in the next few years. If my daughter receives no recognition for her work or her contribution to the classroom or even some silly anecdote she may want to share with the teacher, who's to say she'll want to continue working hard. I don't know about anyone else reading this article, but from what I remember about being a first-grader, I felt pretty proud of myself when I received positive feedback from my teacher.
A popular quote comes to mind, "If you build it, they will come." Give us the schools and the space we deserve, and then watch the community grow. Don't overcrowd our neighborhoods and then step back to assess all the mistakes made along the way.
Report
By ps116mom on 11/27/2007 at 1:34pm
*
Last night, at the Panel for Educational Policy meeting, parents from PS 8 in Brooklyn Height complained that enrollment has tripled and their 2nd and 3rd grades now have class sizes of 30, with worse to come, because of the number of new buildings rising in their neighborhood.
Teachers at PS 373 in Staten Island, a school for autistic children, spoke about how the overcrowding at their school has become so bad that all the classrooms had been divided in half, and still, there was no space for a quiet room, essential for calming autistic children when they lose control. A parent from Queens spoke about how at one school, Kindergarten students have to be bussed to another district, and yet the school is officially rated as undercapacity.
The city has a new class size reduction proposal, mandated by the state, which calls for lowering average class size to no more than 20 in K-3 and no more than 23 in all other grades over the next five years.
But there is no room in our schools right now to accomplish these goals, and the current capital plan would need at least twice as many seats, about 120,000, to make this possible.
According to my calculations, this would cost less than 3% of last year's city surplus, and less than one seventh what the Mayor gave back in tax cuts last year.
I asked the Chancellor last night if he planned to expand the current capital plan to allow their state-mandated class size reduction plan to be enacted, or if his proposal was only a convenient fiction concocted to satisfy the state. Do you know what he said? He responded that he would love to have a better capital plan, but he had no control over the budget.
Well, I don't think this is good enough answer. It's his job, and that of the Mayor, to provide the space so that smaller classes can become a reality. Check out our NYC public school parent blog for more on this.
Report
By leoniehaimson on 11/27/2007 at 3:48pm
*
I can see the argument from two sides. I grew up in Upper Manhattan in the 1980's and it was a regular thing for me to have 35+ kids in a class up until I finished middle school. Even going to gifted and talented and magnet schools like Mott Hall and Booker T Washington didn't mean smaller class sizes. Because it was a poorer neighborhood, district 6, washington heights and harlem, I guess it went un-noticed and I would assume that the situation is about the same today. i don't remember parents crying foul because students weren't praised individually by teachers for good work or for the fact that we didn't have science labs and dedicated art rooms. I made due and to be honest, although it wasn't ideal, it wasn't horrible.
I'm sure in the case of schools being overcrowded because of new condos, the residents are more tuned into what they feel entitled to as tax payers and residents of the neighborhoods and will make their concerns known to politicians and the media.
overcrowding is a citywide problem that has been around for a while. I hope that changes are made but I also hope that all areas are helped.
Report
By samh on 11/27/2007 at 4:28pm
*
At our high school, Murry Bergtraum in Manhattan, the school capacity was increased on the books by 200. Yet there were no physical changes to the building. Over-crowding is an old issue for us, which started under Giuliani and has only gotten worse under Bloomberg. What also must to be considered are the acute academic and social needs of the students in the school; the more needy the population, the smaller the classes have to be.
There once was a time when I would have been proud to send my own children to Bergtraum. I can't say that anymore and it's primarily due to the over-crowding issue. They now attend school in the suburbs with average class sizes of 18.
I feel morally obligated to speak out on this issue on behalf of my students. This is a social justice issue and calls for the methods of resistance used in the civil rights struggle of the 50's and 60's. "Send your kids to private school"- INDEED!
Report
By jelfrank on 11/27/2007 at 4:31pm
*
As a parent of public school children I find we are battling too late with developers. Unfortunately by the time we know about the developments it is too late to brow beat them into providing needed funds and support. The city systems are not developed in a manner to accomodate discussion and negotiation in advance of permits. At the end of the day it is all about money. Developers want to build in the best school districts because they can sell their apartments for the most money. The city is counting the tax dollars before the buildings break ground. Perhaps we can strike like the writers~ we can set up picket lines outside the developers sales offices. We can warn potential buyers of the problems~ we can essentailly sabotage their "best laid plans." Maybe this would get some attention and further press. What we need is retirement communities around schools~ the kids could visit and perform shows for the adults and in return they could volunteer with the kids.
Report
By mss on 11/27/2007 at 5:15pm
*
As a parent with two children at PS 199, I couldn't agree more with the severity of this problem. Program options have become severly limited due to space, for example children watch a movie on rainy days at recess because there is no open space for them to play indoors. Even the school yard has become over-crowded and therefore potentially dangerous. This is an enormous problem that demands attention from the BOE immediately.
Report
By JPT on 11/27/2007 at 7:08pm
*
Class Size Matters? Could you please tell me how many school teachers belong to this "non-profit"; non-profit for whom? Taxpayers? I'd like to start a non-profit called "Workers Without Supervision"or "Hourly Employees Paid For Hours Of No Work." Give me a break!
Report
By bobaloo on 11/27/2007 at 10:01pm
*
Thank you Ms. Robledo for capturing the severity of the problem at PS 199 and other schools in New York. As a resident in my Upper West Side neighborhood for the last 28 years and mother of a 3 year who I hope will attend PS 199, I can attest to the dramatic demographic changes that have occurred. Aside from the more than 6,000 new units in the PS 199 catchment area since the 2000 census, the baby boom in existing buildings is enough to push PS 199 over its capacity limits. While anecdotal, our building for more than twenty years has never had more than 5 children at any given time. There are now 19 children, 14 of whom have been born since 2001. It is clear from the strollers on the sidewalks that our neighboring buildings have experienced similar demographic shifts. The Mayor must perform a demographic survey of the PS 199 catchment area to get an accurate accounting of these dramatic increases in school age and pre-school age children. He should also take a large portion of the City's financial surplus that was created as a result of all the new residential developments and put it towards a substantially larger school building campaign. I hope he reads your article and hears the parents.
Report
By worriedparent on 11/27/2007 at 11:02pm
*
Let's be candid here. The capital budget for schools is set by the mayor. We have money for new prisons, a crime lab, a new 911 call center, three subsidized stadiums but not enough schools? The State Assembly is exasperated with the mayor. Deputy Assembly Speaker Lafayette has reversed his position on mayoral control and now opposes it because the mayor refuses to address overcrowding despite state matching funds provided for schools construction. The chancellor and mayor need to stop shirking their responsibility and start being accountable.
Report
By PatrickJSullivan on 11/27/2007 at 11:04pm
I was at a meeting last night where the city's chief "accountability officer," James Liebman, argued that research revealed that above class sizes of 15 there is no difference in educational outcomes: all things being equal a class of 35 is as good as a class of 20. So they don't see any problem with stuffing more kids into our schools. I can't find a single scholar of education or academic article supporting this view. How about parents?
Report
By AnnKjellberg on 11/27/2007 at 11:23pm
*
Homeowners and residents of Oregon had to pass laws to LIMIT GROWTH.AND KEEP OUT DEVELOPERS,who would make millions off huge housing-and-mall,developments;we voters had to do this,our govt. is crooked.WE voters had to do this,gang up together,and refuse to pass bonds,bills,redevelopments,and "urban renewals."YOUR govt. will NOT do this for you. We passed "Prop. 49,"to greatly limit development in our state and region.Now,only a few houses can be built,at a time,not huge developments. If your city govt. is crooked,out of control,you either have to "rein it in,"together,legally,or you have to go to a community that has the will to do it. Often,local govts. are in league with developers,as they can make money with them,and off them;they'll ignore you residents.LIMIT your growth;do not take more kids in the schools,new ones,tell THEM they have to go to private schools,not the old students. Remember the city govt. is never going to be your ally;they are looking out for themselves,not you residents.--unless you have enough power to FORCE THEM to be responsible.
Report
By dorothyblueeyes on 11/27/2007 at 11:40pm
*
Schools will never be added into the equation of new buildings despite how many new residential buildings go up. Why? The administration does not care about our children, they care about skewing the numbers to make it look like they are doing a great job, but after all they feel that if we are not satisfied instead of complaining we should place our children into Private Education.
Report
By apparent on 11/28/2007 at 8:31am
*
We are having the same problems in Queens. Old victorian houses are torn down & replaced with six 3 family homes. Empty lots have multiple family dwellings built on them. Landlords who own private houses rent out rooms & there is nothing we can do about it. Our schools do not have yards for recess. They are filled with trailers being used as classrooms. High schools start as early as 7:30 AM & the last periods get out between 4:30 & 5 PM. How can you learn science & math with 30 kids in a class? BloomKlein couldn't care less about overcrowded classes, schools that need repair and/or upgrading. They don't care about building new schools. They have their heads in the sand when it comes to the education of NYC kids. Testing it the be all and end all.
Report
By karenk on 11/28/2007 at 9:44am