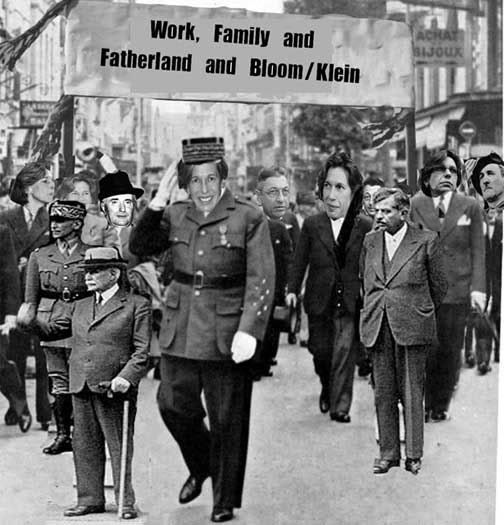 My "comrade" Norm at ednotesonline.blogspot.com has been merciless in his description of the UFT leadership. As collaborators in the union's weakening power he feels they are serving the membership "Vichyssoise" For those uninformed about Vichy, from www.spartacus.schoolnet.co.uk:"On 14th June 1940, the German Army occupied Paris. Paul Reynaud, the French prime minister, now realized that the German Western Offensive could not be halted and suggested that the government should move to territories it owned in North Africa. This was opposed by his vice-premier, Henri-Philippe Petain, and the supreme commander of the armed forces, General Maxime Weygand. They insisted that the government should remain in France and seek an armistice.
Out voted, Reynaud resigned and President Albert Lebrun, appointed Petain as France's new premier. He immediately began negotiations with Adolf Hitler and on 22nd June signed an armistice with Germany. The terms of the agreement divided France into occupied and unoccupied zones, with a rigid demarcation line between the two. The Germans would directly control three-fifths of the country, an area that included northern and western France and the entire Atlantic coast. The remaining section of the country would be administered by the French government at Vichy under Marshal Henri-Philippe Petain.
Other provisions of the armistice included the surrender of all Jews living in France to the Germans. The French Army was disbanded except for a force of 100,000 men to maintain domestic order. The 1.5 million French soldiers captured by the Germans were to remain prisoners of war. The French government also agreed to stop members of its armed forces from leaving the country and instructed its citizens not to fight against the Germans. Finally, France had to pay the occupation costs of the German troops.
Over the next four years Henri-Philippe Petain led the right-wing government of Vichy France. The famous revolutionary principles of "Liberty, Equality, Fraternity" were replaced by "Work, Family, Fatherland". Prominent figures in the Vichy government included Pierre Laval, Jean-Francois Darlan and Joseph Darnand."