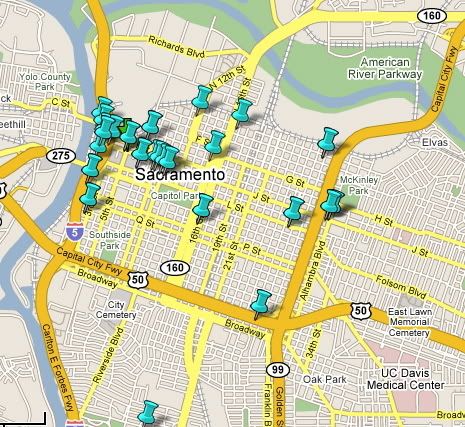 This is the latest map I'm working on (it's my 12th) and I'm just about through. Above is an image of it,
it's location on the web is here.
It coincides with much of the historical information I gathered from the Burns' War documentary. Sacramento was one of the the series' four anchor cities and it was the most diverse. I believe it is considered now the most diverse city in the country. It's uniqueness of the anchor cities was its considerable Japanese-American population and their subsequent isolation in internment camps.
From the PBS War site:
"Sacramento, California, the state capital, had been the gateway to the California Gold Rush and the western anchor of the transcontinental railroad. Europeans had first arrived in the 1830s, followed by thousands of Chinese laborers who had helped build the railroad and then settled in Sacramento. A small African-American communityemerged in Sacramento as well, and by 1860, the only two black doctors in the far west had practices in the city.
Surrounded by some of the most fertile land in the west, Sacramento was a diverse farming town of 106,000, including Italian, Filipino, Portugese, and Mexican Americans. The city's biggest employers were the local cannery, the state government and the Southern Pacific Railroad. On the eve of WWII Hundreds of "Okies" — refugees from the dust bowl — still camped on the edge of town and worked the fields, orchards and vineyards of the surrounding Sacramento Valley. Jobs were scarce during the Great Depression, and many in the city were dependent on charity, relief and federal work programs."
What I tried to do is map sites mentioned in the show as well as other historical sites I researched. I also tried to make the map more engaging by linking images to each marker. This can be a tedious process because care most be taken to limit the size of the picture, otherwise the "bubble" for the marker becomes "overwhelmed." This map has about 50. Google limits you to 100 per map, which is just as well because the markers become too crowded and indistinguishable especially if the geographic area is not too spread out. I also try to pick up clues from the show and supporting site as to where some of the "witnesses" lived. I also use census records
(the closest being 1930) to help spot the location. Some of those mentioned are Earl Burke, Barbara Covington, Burnett Miller, Harry Schmid, Burt Wilson, Susumu Satow, Sascha Weinzheimer, Dolores Silva, Asako Tokuno and Robert Kashiwagi