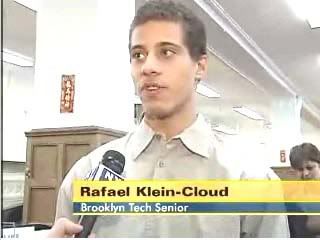 I caught this on NY1.com: A neighbor's kid was recognized today, along with a group of other African American kids from Brooklyn Tech, for AP Science Achievement. Looked like all of Tweed was there for another obfuscation tour. But granted, this is a great thing and hats off to Tech and the hard-working science teacher, Maxine Klein, who was mentioned. You can bet she doesn't follow the workshop model.
March 06, 2007
Some city high school students scored big on a difficult national science test and got an extra prize out of it Tuesday: the mayor showed up to congratulate them. NY1's Education reporter Michael Meenan filed the following report.
"Think big and you'll never fall short of your dreams," said Kimberly Laughman, a senior at Brooklyn Technical High School.
Laughman delivered those words as she was honored Tuesday along with 21 other African-American high school students, for scoring well on a national science test.
"We have a number of students joining us today who did extremely well on the Advanced Placement biology exams last year," said Mayor Michael Bloomberg at the ceremony.
The students scored a three or higher out of a possible five last May on the exam, making Brooklyn Tech number one in the nation for black students excelling on this test.
"This day really sets a standard on what one can achieve when we have students, African American students, achieving mightily and being extremely successful in taking an AP exam," said Deputy Mayor Dennis Walcott.
This day served as a reminder for Darryl Oliver, who got a five on the AP bio test, of how good high schools can equalize the playing field.
"I knew the test would be easy," said Oliver. "I had a great teacher. She tested us, gave us quizzes all year, and a lot of reports, a lot of projects."
This extra work for the students means more work for the teacher, who says she is in this for much more than just a paycheck.
"My quizzes are killers," said AP biology teacher Maxine Stein. "They [are saying], 'what is she thinking of next?'"
The students' successes are also a result of their individual drive.
"I have a lot of friends who are African-American and every one of them knows what they have to do to get into college, for their career, and that involves taking AP tests," said Brooklyn Tech senior Rafael Klein-Cloud. "And they are very diligent about it."
Schools officials agree that while this is achievement is noteworthy, it is important that this attitude towards emphasis on science spreads to other schools.