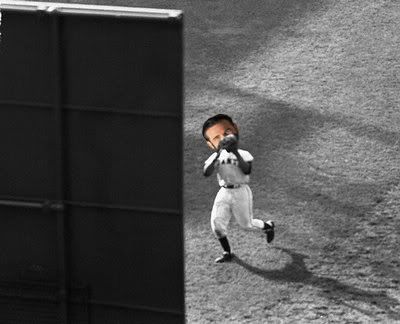 A baseball fan friend of mine commenting on the recent passing of two celebrities
What I remember most about Mike Jackson was his sharp breaking curve; good movement on his fastball; and he changed speeds well.
He pitched in 1005 major league games over 17 seasons, for 9 different teams, including Seattle, twice. In 1994, with San Francisco, he had an E.R.A. of 1.49, with 51 Ks in 42.1 innings pitched. In 1998 with Cleveland, he saved 40 games, with an E.R.A. of 1.55...then in 1999 with Cleveland, saved 39 games.
I can't say that I have any recollection of his dance moves...although he did seem to be a popular member of the bullpens that the camera would, from time to time, pan to.
...and I have no idea if he could sing...I'm not sure how relevant that was to his pitching. Oh, and by the way, he was 45, not 50.
...and as for Billy Mays, wasn't that one heck of a catch he made in the 1954 World Series!