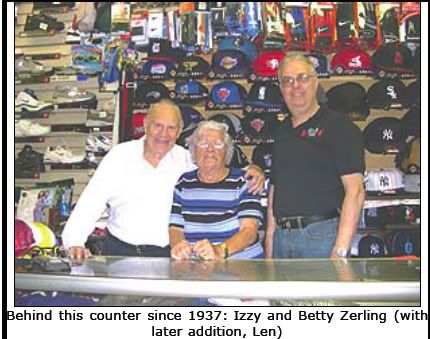 Here's something they don't teach you at Columbia. I was down on the LES yesterday to visit with one of the systems best principals, Rosa Casiello O'Day of PS42. I had put together the pieces of my LES-Harlem project and was giving her some of my resources. I decided to stop in on an old acquaintance, Len Zerling, of G and S Sports. I had seen an article in the Times that would interest him and wanted to pass it along. I also had another secret agenda, which I can't reveal here. I also thought, as I always seem to think about now, "I wonder whether there's a digital story here." G and S has a lot of LES history. But it wouild have been awkward to come in a say, "Hey Len, how about an interview?" However in the course of our conversation he wanted a phone number that I thought I had on my computer and I whipped it out (the computer, that is). While it was open I showed him the story I did on the Mets with Ms. Rizzo's class. He then seemed intrigued about how I was able to do that, so I started a mock interview and the story took off. Afterwards, as I listened to the tape at home, I started looking for images online that our talk suggested. I also had taken pictures at the store. When I googled his father's name, Izzy Zerling, I found all this interesting stuff on his boxing career. I even found a transcript of an oral history of his World War II experiences that he provided for some college in Virginia! The story can go in a million different ways and each way opens up new intriguing pathways. It's exhilarating. It's almost like being a jazz musician improvising on a theme.
Anyway, here's the story.
Postscript, while I was at PS42, who should show up to see Rosa, none other than Caroline Kennedy. Now there's a whole other story possibility. By the way, the prices at G and S are very reasonable. Official team jersey shirts that I've seen well over $100 at other stores are about $80-85. Those nice team jackets, by Adidas, were only $50. The store is on Essex Street, between Hester and Grand.