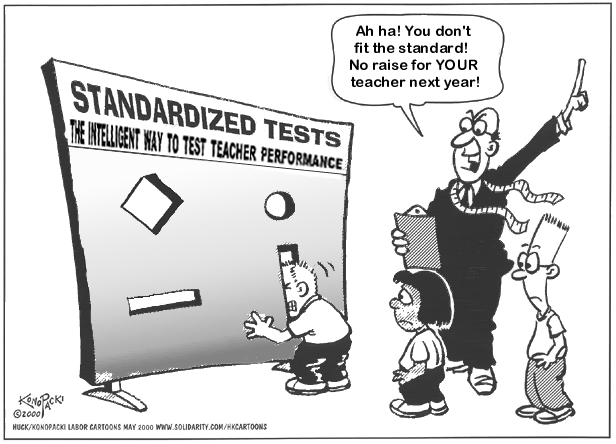 UFT President endorsed merit pay for NYC teachers. A terrible, union busting idea that she should have kept in her closet. A sampling of responses
from one of the most respected education blogs in the country, nyceducator
:
Here's a key part of that quote:
It will be up to "compensation committees" at each school made up of teachers and principals supervisors to divvy up the money as they see fit. They could choose to distribute it evenly among union members or single out high performers.
Thus, if you slept with the principal, your chances of getting money are greatly increased. This also goes against Weingarten's repeated public claims that individual teachers should not get merit pay.
The possibilities for corruption are endless. Perhaps we should run a contest eliciting the many ways teachers will now be able to earn merit pay.
This is insane. It just encourages the "Enronization" of education: more fraudulent grading, teachers pushing up scores to get that bonus. I guess it takes the onus off of the administrators, right? I think, in the end, the money'll, like per session, will go to whoever is in with the principal.
Now, I'm completely convinced that Randi is coaxing her way to a national position, perhaps in the (nigh inevitable?) upcoming Democratic administration.
Given the lack of responses from readers of this blog on the other "Randi" stories, I doubt there will be an outcry against merit pay.
I will email Randi the same way I did back in '05.
This sends a message to all teachers that work hard to make sure their kids succeed that if you don't work in a "low-perfoming school", you are not worthy of any extra compensation.
And, what about those teachers that are left out of the compensation because they teach other subjects--what a way to divide a staff!
I agree very divisive. Imagine the teacher who feels they worked way harder than that other teacher. Or the teacher that knows her co-worker is cheating and helping their students on the tests (like a teacher I know does this in my school). How much should para's get? How about the school aides? How much for the AP everyone doesn't like, or the one everyones quietly considers an idiot. Imagine the school where teachers in the same grade, with classrooms right next to each other where one is more liked or has higher performing students or just simply doesn't have that 1 kid that can ruin a class. Imagine when 1 gets more $ than the other. How about the teacher's in the non-testing grades? How much should they get for all their hard work in the previous grades? How about clusters? In my school I push into a classroom 1-2 periods a day to assist. I have to walk the hallways and watch the bathrooms on testing days. How much would that qualify me for?
On another note think about the poor students (no pun intended) in those 200 schools. No doubt there will be more teaching to the test and test prep. Scores may go up, but real learning will not.
I nearly gagged on my dinner when I saw this on the news tonight. Everytime I think things can't get any worse, they do.
I can't even imagine the corruption that will ensue over this. You just know that anyone not in the bowling league will never stand a chance of seeing one dime of that money.
This sucks. Classes will be stacked so that some teachers have harder kids to work with. It has been done before when nothing but kudos was involved. Now that money is an issue--look out!
Forgot to ask:
How come the rank and file don't get to vote on this??????
here is what i feel right now:
1. this is f***ing bulls***
2. i give up.
When I started at my school in 2002, it was the lowest scoring school in the lowest scoring district in NYC -- the worst of the worst, by definition. When I left last year, it was still no prize, but it was improved and with new leadership and new teachers, there is a promise of even better days ahead.
after two years of finally getting the hang of teaching and enjoying it, this makes me want to move. not to another school, but to a place where teachers aren't selling out. hoorah to the continued decline of our educational civilization
Here we are, years later, and they're saying the 25/55 is contingent upon this merit pay scheme.
Yes, I agree that teachers in hard-to-staff schools work their butts off.
Perhaps Robert may recall when teachers who worked in these schools got a higher salary until Klein pulled that plug. At least all the teachers were paid equally. But as JD points out on Edwize, the so-called "team" may not be union oriented.
Would it have made a lot more sense if Bloomweinklein used this money for setting up programs and lowering class size in these high need schools?
Are teachers suppose to "work harder" for the extra pay?
Incentive attracting experienced teachers? Does the principal have an incentive in hiring veteran teachers?
First of all get all of the facts straight. Try edwize.org to start.
Secondly, believe all of the press and you will follow into their hell. The real win is not the Bonus Pay program but rather 55/25 as an option for all who want it plus coverages are now pensionable retroactively to at least 6 years. This is at a time when EVERYONE else is losing benefits not getting them (see Detroit teacher, the airline pilots, UAW and even our great brothers in TWU). The Bonus program may not even work any of the schools (this was tried before in NYC) and no one looses a thing. The press jumped on the Bonus program. I, and my members will, jump on the 55/25.
Thirdly, NYC Educator has already condemned this and doesn't even know the details. The mayor wants the Bonus Pay program and THAT is contingent on 55/25 not the other way around. Everyone in Albany have historically supported it going up jointly.
Lastly, this should answer the fear mongering that was created by so many about "the secret deal" in the 2005 and 2006 contracts. "Health costs are going to go up!" - didn't happen. "Where is 55/025?" - here it is. Go to all of your colleagues that have been praying for 55/25 and see how much they don't like this either.
I walked out of the assembly. This proposal is sickening on so many different levels. So sad to think that what could have been marked a true "victory" with 55/25 has been blemished with this inane deal.
This is a major defeat--the merit pay is a joke and will not be given to those who deserve it, but to those who kiss the principal's butt the most...
What the 25/55 shows is that senior teachers are not valuable and not wanted (by the way, it doesn't affect me as I will have 33 years at age 55)...the mayor himself said that 25/55 will be a great cost saver as older, costlier teachers will be replaced by newer, less expensive teachers....again, he wants teaching to be a job only for the young.
Stop referring to Weingarten as a "labor leader"; she's a "labor sellout". Under her "leadership", two very serious labor problems were CREATED: the ATR situation, and the infamous fascist "rubber rooms", once reserved for the lunatic fringe. Now anyone in the radar of an adversarial administration can be removed from their teaching (or supervision) position on trumped up, flimsy charges, or plain old lies. Yes, Rhoda, Bloomberg does like 'em young...he loves to sexually harass the young and make personal comments to them about their sex lives, etc. This is crap..."building wide" bonuses will only go to administrative favorites, further driving NYC teachers apart and creating a wedge. I still am asking, "How do teachers of special education students qualify for merit pay?" No answers yet, only the guise of "building wide" which would be determined by 2 administrators and which 2 teachers? The ones who socialize with the principal outside of school? This is a total sellout...we should now sue Randi for our union dues, since they are NOT being used to benefit us out there in the trenches. I know it's much harder to teach in a high needs school, I did teach in a high needs area years ago and got out via the coveted seniority transfers, since I really didn't want to be shot by drug dealers having a mid afternoon dispute as I left the building. I also had to cross a bridge for that privilege. I wanted to work in a safer environment!! Also, we gave up seniority, the perk and the reason civil servants settle for less money throughout their careers.