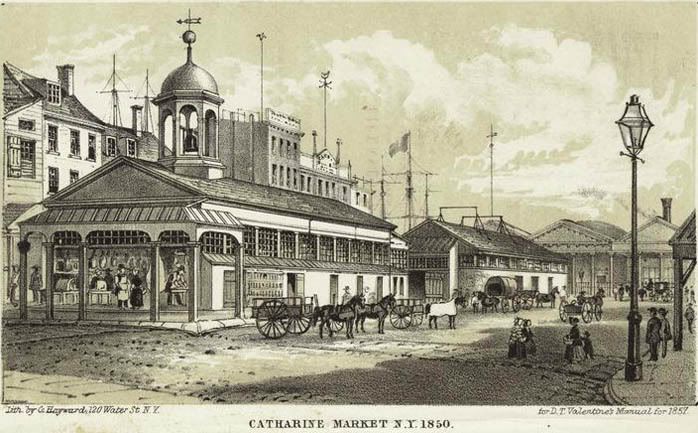 The spelling used to be with an a instead of an e.
From the Brooklyn Genealogy site
. Remembrances recorded in 1874 in the Brooklyn Eagle of the early 1800's on the Lower East Side and the Catharine Market
(BEWARE OF LANGUAGE)
:
Brooklyn In its Infancy - Memories of Localities Now Obliterated - the River Front on Both Sides - How the March of Improvement has Transformed the Old Scenes in the River Wards of Brooklyn and New York, etc., etc.
Fifty years ago travelers crossed the Catherine Ferry in a horseboat,
then, and for years after, owned by Rodman Bowne and Brothers, who
accumulated a vast amount of real estate and left millions of dollars to their heirs. Then there were but few buildings between this point and Red Hook in
comparison to the present. Beyond the Fulton Ferry, excepting an occasional
shanty or boathouse, there was nothing but a beach, affording a very
comfortable bathing ground. What is now called the Heights was then a delightful promenade, with only a few mansions and the Eagle tavern, very near to what is now Atlantic avenue. Many resorted to this promenade to enjoy the exhibarating breezes
from the bay and harbor. There was a gradual slope from the top of the bank down to the water, and A FEW WOODEN STAIRS to ascend and descend. It was not easy to walk down where there were no steps, and the boys, in attempting to run, would go head over heels into the water. It may be that here Jack and Gill Went up the hill To get a pail of water; And Jack fell down And broke his crown, And Gill came tumbling after. Below Atlantic avenue was what might be termed a great bog meadow until
Red Hook was reached. The most prominent bulding in this locality then was a
very extensive glass blowing establishment. At a later period the Long
Island Railroad Depot was at this point, and went through Atlantic avenue the
most of the way underground. It was finally driven away by the old fogies,
whose nerves were so sensitive that they could not endure the noise of the
iron horse. They had to shut up the tunnel, thereby burying an enormous
amount of treasure which had been expended in its construction. Looking at this portion of Brooklyn now, and comparing it with what it was fifty years ago, it would seem to have risen up as by enchantment. But
what might it have been had the iron horse been permitted to stay?
East of Catherine Ferry it was less populated than west of it. Scarcely
any buildings along the shore except one tavern, which stood on quite a high
hill about midway between the ferry and Navy Yard. There were not many
streets cut through to the water. At the foot of Washington street there was
an extensive lumber yard, kept by one John Moon, whose children are still
living in Brooklyn. Adams street came next, and but few others until Navy
street was reached, running alongside the Navy Yard.
From Fulton Ferry to what is now called the City Hall there was not one
building where there are now ten.
THE FINEST MANSION IN THE STREET
was the residence of Henry Waring, Esq. (the founder of Waring's
Storehouses), in close proximity to which there was a beautiful burying
ground. This was in the vicinity of what is now called Clinton Street.
Where the Court House now stands was a very pleasant resort known as
"Duflon's Garden." Between this point and the Jamaica turnpike (where Fulton
street then ended), was another familiar resort, known as the Black Horse
Tavern, or half way house to Jamaica. Not far beyond this, at the junction of
the Jamaica turnpike and Flatbush road, was a large nursery and magnificent
garden, kept by one Parmentier.
=To the right of the garden an ordinary country road passed over Prospect
Hill and on to Flatbush. From the left side of Parmentier's the Jamaica
turnpike went through Bedford now almost "lost and swallowed up" in the heart
of Brooklyn. Stages then left Fulton Ferry about three times a week for
Flatbush, Flatlands, Canarsie, etc.
From Catherine Ferry, up Main street to Sands, and up Sands to the
Wallabout Bridge, buildings were anything but numerous, and mostly frame. On
one side of this bridge was a large pond full of timber, seasoning for Uncle
Sam to build his ships.
Crossing the Wallabout Bridge, which was at the head of Sands street, an
ordinary country road wound its way to the Cross Roads and Bushwick.
A great portion of the land in the vicinity of the Navy Yard, now so
compactly built on, was then sal(t?) meadow, and there is now an old house in
Adelphi street, near Park avenue, that they stood on the edge of the
Wallabout, and from which its occupants frequently went in a "boat" out to
the Cob Dock. (The word "sal" was at the end of the column)
From the bridge, along the East River, to Grand street, there was only a
footpath and some half dozen farm houses. From the Ferry up Grand street,
until Bushwick avenue was reached, the houses were few and far between.
THE OLD DUTCH CHURCH
(Meeker's) was then in Bushwick avenue' and is now hid away among the
hundreds of surrounding habitations.
Adjacent to what is now called Broadway, E. D., there was a long row of
Lombardy poplars, doubtless remembered by many of our readers from which many
of the farmers started for New York in skiffs with milk, carrying it from
door to door with a yoke on their shoulders. Milkmen also went from Red Hook
to New York, crossing Buttermilk Channel, and sometimes they would get upset
from their skiffs in the ice during the Winter season.

NURSERY MAID'S SONG
Then it was that the nursery maid's sang to the little 'uns:
Milkman, Milkman, Where have you been?
Buttermilk Channel Up to my chin
Spilled my milk And spoiled my clothes
And got a great icicle Hanging to my nose.
Crossing to New York and passing along the river front and the Seventh
and Fourth Wards, the contrast is most remarkable. Then from Corlaer's Hook
to Pike street the river front was mostly used for shipbuilding. Bergh's yard
was at the foot of Scammel street.
The water front then was at Water street, and all the slips from
Gouverneur to Roosevelt street, viz: Rutgers, Pike, Market and James, run up
to this street.From the foot of Walnut street (now Jackson) there was a ferry,
principally used for getting to the Navy Yard.
Walnut street in those days and for years after was almost a
pandemonium----worse, if needs be, than the well known Five Points.
Banker street (now Madison) with its one story shanties, occupied
promiscuously by whites and blacks, was not far behind Walnut street.
Georges street (now Market), was another emanation from the lower regions.
Lombardy street (now Monroe), lined with Lombardy poplars, was a
comparatively quiet street. At Jefferson street it was intercepted by
country bars. Old Colonel Rutgers at that time occupied about two blocks,
his mansion being in the centre, and not far from where Monroe street was in
later years cut through and continued on to Corlaer's Hook. On the opposite
side of the Rutger's mansion a splendid row of brick buildings was put up,
but they and the mansion house have wonderfully retrograded. The millionares
have gone to the Fifth avenue, and the mansion and grounds are now used as a
large cooperage.
OPPOSITE COL. RUTGERS MANSION
was another old relic, being a large brick dwelling about fifty feet square,
surrounded by spacious grounds, belonging to and occupied by Mr.Remsen. This,
some thirty years since, had to succumb to progress, and in its stead stands
Remsen Row. On the corner of Clinton and Harman (now East Broaway), was a very high
hill, which remained some years until the street was widened; and this
street, as also Henry and Madison streets, became the most quiet and retired
in the city. In fact some of the oldest and most respectable merchants
resided in these streets. Such, for instance, as Josiah Macy, of the firm of
Josiah Macy & Sons, Samuel Judd, (now Samuel Judd's Sons;Preserved Fish,
(said to have been picked up in a boat when a boy), once President of the
Tradesmen's Bank; Jas. W. Barker, dry good merchant, once Know Nothing
candidate for Mayor.The venerable Dr. Maclay, the eminent Baptist divine, and Wm. B. Maclay, M. C. Madison Holmes, Sr., of the firm of Holmes, Hawley & Co., once President of the Tradesmen's Bank, also.
(In case any of the comments in the following transcript are
upsetting to some people, as they were to me. please remember
that this is from a newspaper that was published in 1874.)
OLD JOE HOXIE
Joseph Hoxie, who was considerably mixed up in politics, and subsequently
moved over to this city; also Wm E. Hoxie, his brother, once Captain of the
packet ship North America, lost on Sandy Hook beach, and afterward Captain of
the ship bearing his name.G. W. Brown, so long known as the keeper of a hotel in Water street, near Wall.John J. Cisco, who once kept a clothing store on the corner of Market and Cherry street, and not many years since was connected with the United States Treasury, now a Wall street banker.Cherry and Water streets, then below Catherine, were comfortable streets to live in, but now what are they?
Catherine street was a great thoroughfare from the Bowery to the ferry. A
large market at its foot and almost every commodity being sold in this
street, made it almost impassable on Saturday nights. Sunday morning was a
gala day at this market for the "darkies" who came over from the Wallabout in
skiffs to dispose of their perquisites. The market was open till nine
o'clock and they carried on quite a traffic in birds, berries, herbs, clams,
crabs, eels etc., beside having a jolly time "wid dem New York niggers."
BOTH MARKETS AT THIS TIME were frame buildings, the lower one being about half occupied by fishermen and hucksers. Some years after they were replaced by brick ones, and an exclusive fish market built over the water. Then, the butchers, with very few exceptions, butchered there own meat, and had their own slaughter house
in the Tenth and Thirteenth Wards. But they have all disappeared, the
wonderful increase in population and the more fastidious ideas of the people
demanded their removal. Some of the most prominent butchers were the
Varians, Winships, Andersons and Valentines. A meat shop could not be found
at almost every corner, and those in want had to go to market. There were
not more than a half dozen markets on the east side of the city and it was
quite a journey for some people to go to them. The East River Savings Bank (now in Chambers street) was first located in Cherry street, at the residence of John Leveridge, one of the old time and much respected lawyers.Goodrich (the well known Peter Parley), fifty years ago kept a bookstore on the corner of Water street and Peck Slip, and it is only a few years since the old Dutch building was taken down, and a large tenement house erected in its place. Old Johnny Pease, better known as the introducer of "PEASE'S HOARHOUND CANDY," once kept a fruit and candy store in Division street, opposite Chrystie, and was noted for his fine sprue, beer and mead. One of his sons is now living, and is of the firm of Pease & Murphy, boiler makers.
CONGRESS HALL where they could have the soft side of a plank for three cents per night, and it is said one of the most prominent citizens of the Seventh Ward once took these Congressmen to a clothing store and then to the poll, in order to help
his cause.East Broadway was somewhat noted for physicians, such as Cockroft, Miner,
Lindsey, Baldwin and James R. Wood (a student of the celebrateed Dr. Mott),
the latter now a surgeon in the Bellevue Hospital. Now, we will suppose that that honest old Dutch groceryman, who once kept store in Fulton street, and never put sand in his sugar, or mixed old beans with new, should return (having been away fifty years), and be lifted to the top of the BRIDGE TOWER and "view the landscape o'er"; the forest of masts; the magnificent domes; the floating palaces upon the water; those inimitable public buldings on Blackwell's, Ward's and Randall's Islands; the innumerable number of cars and the multitudes that crowd them, and hear those screaching devils (the tugs) coursing to and fro; would he not be very likely to go mad and exclaim, "Mein Got, vat a countree and vat a peebles-----vy, te berry tuyvel moost pe in em!"