Despite the comments made about "The Fart Heard Round The World" at the spoof, an exclusive still that was captured revealed that Tiger and his caddy spotted the real culprit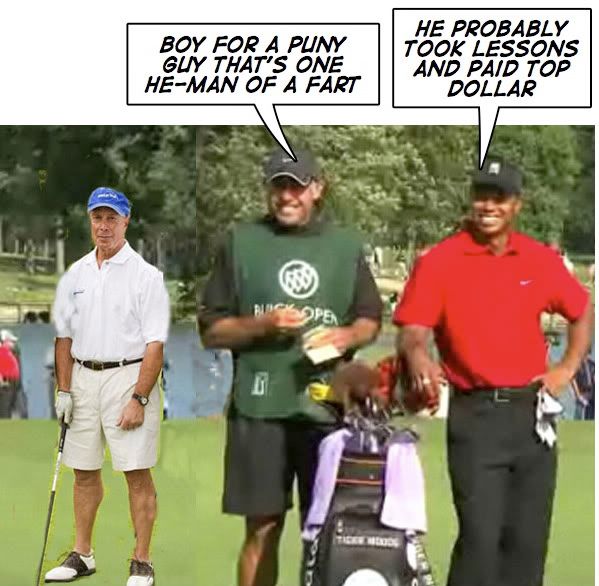 from the spoof
Sure Tiger Woods won the Buick Open for the third time Sunday, but the big news Monday is about that Tiger Woods fart on live camera. I guess that's the Tiger roar for another victory so expect to hear some more manly farts throughout the year.
At one time you could have viewed the hole fart scene but the PGA has demanded that it be passed because they own all the rights and could sue anyone still sounding the alarm.
Woods, who must have shit his pants at the British Open recently by missing the cut, was at the 18th hole when the blowhole roared and he and his caddy went into a mutual laugh-a-thon. You can still catch some still shots if you hurry.
Of course the caddy will probably "Fall on his turd" to take the blame but it looks like Tiger grinned first and you know the saying about "He who smelt it, dealt it".
It's being reported that Tiger Woods also farted when he won the Arnold Palmer invitational in March, if you're keeping records. Many are going back and looking through some old video but so far, all they've found is John Daly taking a whiz in a water hazard at the 2004 US Open