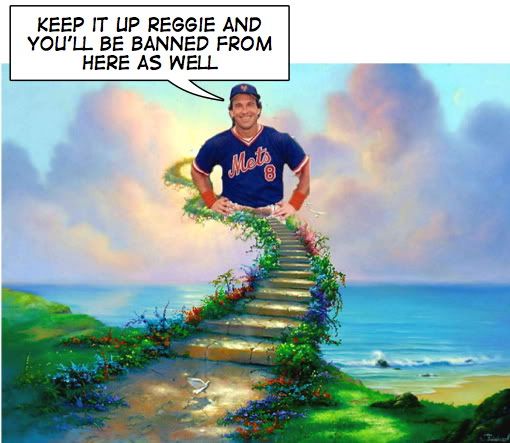 with a h/t to Lyn Lary for the statistics
Gary Carter's average yearly output:
72 R, 148 H, 26 2Bs, 2 3Bs, 23 HRs, 86 RBI, .262 BA, 60 BBs, 70 Ks, .773 OPS (Career 3 Gold Gloves)
Reggie's average yearly output
89 R, 148 H, 27 2Bs, 3 3Bs, 32 Hrs, 98 RBI, .262 BA, 79 BBs, 149 Ks, .846 OPS
from Lyn:
Now, I don't believe that WAR should be the be-all and end-all on getting into the Hall. Among other things, it's a function of longevity. I think peak value and other things should also be factored in.
But if you look at it, Carter's stats rank very high even among the very best catchers currently in the Hall. In fact, save for I-Rod, there isn't another catcher who even comes all that close on defensive WAR. Carter even outstrips Johnny Bench.
The inevitable conclusion is that Carter was a GREAT defensive player—one of the very best ever—at a key defensive position, while also performing as a sterling offensive player, nearly as good as Berra, according to this measurement.
When it comes to HIS peers—outfield/first base (Reggie was a DH for a long time) sluggers, Reggie ranks much, much lower compared to his HOF compadres than Carter does to his.
Again, this shouldn't be the final word on the Hall. Reggie was a terrific player at his peak and one of the best clutch players who ever lived. He belongs in the HOF.
But if you're going to espouse a really tough, very-best-only Hall, as Reggie seems to be doing, then Gary Carter would still make it...and Reggie Jackson would not.