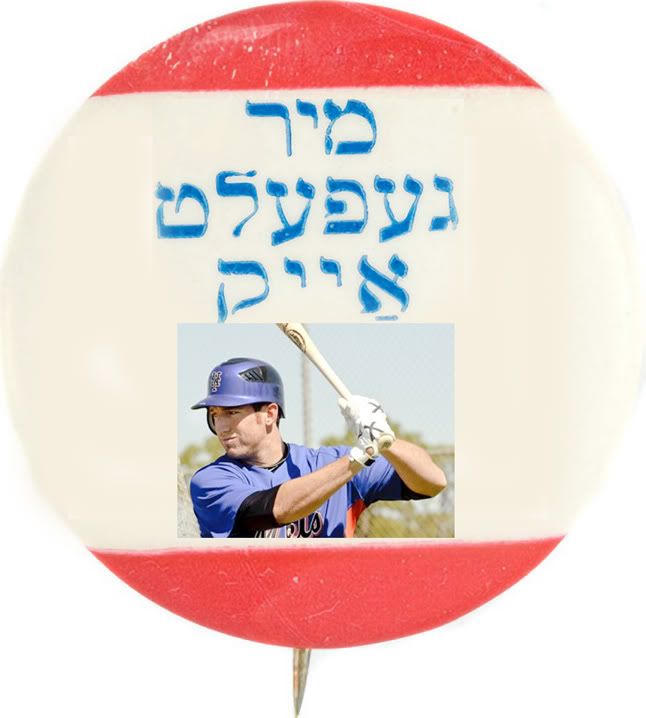 an excerpt from bats blog
Ike Davis's Real First Name Has a History of Its Own
By DAVE WALDSTEIN
Ike Davis's first name is well suited for headline writers and clever promotional gimmicks, as in the "I Like Ike" banners that have begun appearing at Citi Field and have their origin in the long-ago presidential campaigns of Dwight D. Eisenhower.
But Davis's real first name is Isaac and it has its origins in the Jewish tradition of naming children after deceased relatives.
Davis's mother, Millie, is Jewish, and she named her son after her grandfather. Davis said a large portion of his family on his mother's side, which was from Lithuania, perished in the Holocaust. He learned about his family's history by doing family trees as part of school projects. He said his great aunt on his mother's side was a Holocaust survivor who came to the United States, and it was initially through her that the family story has been preserved.
"She was the one who knew everything that happened," he said. "She was able to come to the United States and she brought the story with her."
Davis, whose father, Ron, is a former major league pitcher, had a secular upbringing. Still, he said he was aware that his background will create curiosity in New York, where there are many Jewish fans and where there has never been a standout Jewish player on the Mets.