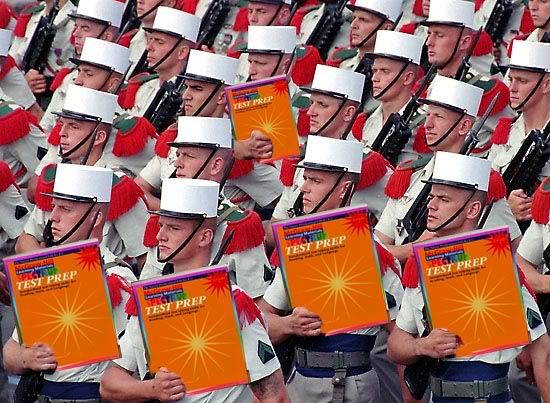 Over at the nyc public school parents blog one of my satiric idols, Gary Babad,
may have uncovered the true story of the knighting of 4 NYC school principals. His take
Purportedly a recognition of the dual French-English language programs at the principals' schools, the titles are actually being conferred to reward the principals for their role in recruiting students for the French Foreign Legion, sources told GBN News.
The dual language programs were reportedly designed to give students the communication skills needed to function in the Foreign Legion environment, and would facilitate the ability of the Legion to recruit them once they reach the required age. Legion service will be considered "seat time" for credit recovery purposes, and will enable any student who joins to automatically graduate.
I have another theory. I think the principals are being recognized for their military like precision in utilizing test prep materials. Evidently the foreign legion will be modeling their practices