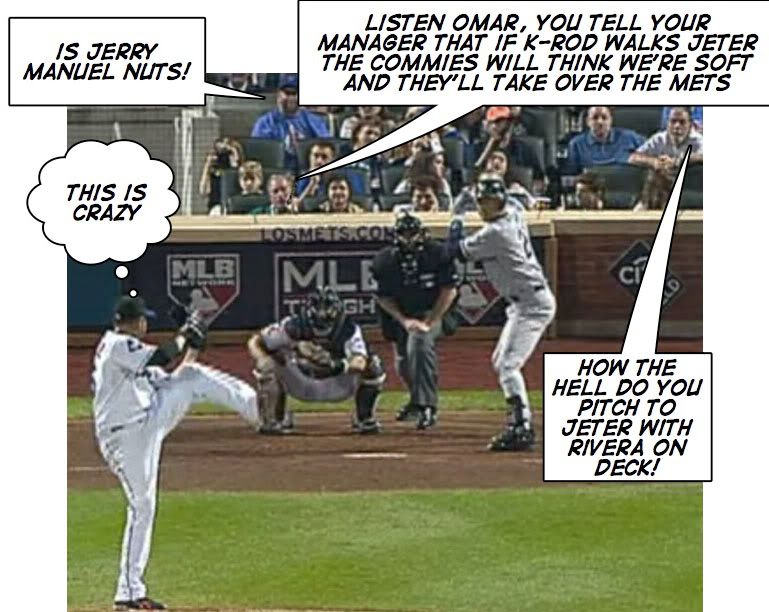 No one could make sense (see comments below) as to why K-Rod pitched to Jeter last night. The mayor was very visible in prime seats at the game. Could it be his visions of a Soviet takeover of the school system clouded his world view?
from the nydaily news forums
BREAKING NEWS: The Mets players have just released their 2009 theme song. K-Rod is the lead singer. Here's a little teaser. "The K is for Kool Aide, The K is for Kool Aide, The Kool Aide Jerry makes us drink before each Game!" Jerry you had me at sympath. with all the injuries. Now you've got me at WTF is wrong with you dude. I really think that little stunt he pulled by trying fake an int walk threw K Rod off a little as he started over throwing. You pitch to Jeter , by throwing him a strk with Mar. up next. What if Jeter slaps that ball down the right field line for a double. Then you have K Rod throw 2 more pitches 6ft outside. What if K Rod throws a wild pitch or balks or both? Omar last year you were gutless and classless about how you let Randolph go. But now is not the time to be worrying about people's feelings. Jerry Manuel needs to be fired today!!! Period. Mets Fans, I said this earlier but guys really need to protest at Citi. Tonite's game was unbelievable. Wow.. Just Wow.