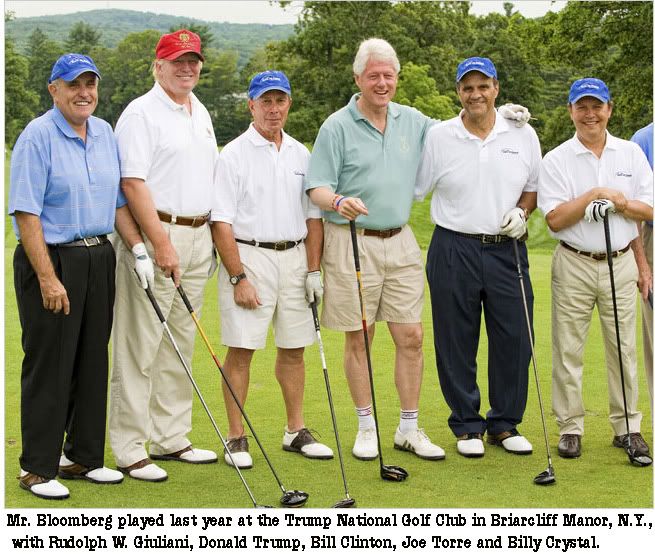 From a nytimes article on Bloomberg's obsession with golf
Those who play with Mr. Bloomberg said the mayor, 67, who stands 5 feet 8 inches and appears fit, hits the ball straight but not especially far. He is a decent putter, but loudly scolds himself when he hits a bad shot — "Come on, Mike!"
These days, he still hits more bogeys than birdies, but Mr. Bloomberg now routinely shoots between 80 and 90, say those who play with him. "The improvement in his game is amazing," said Mr. Donovan.
Donald Trump, who has played with Mr. Bloomberg, said: "If he had more time to play, he'd be a terror."
The game has proved a useful political tool for the mayor. He has schmoozed the head of the Staten Island Republican Party over a round. And he flew Mr. Bruno and Sheldon Silver, the speaker of the State Assembly, to Bermuda for a weekend of golf.
Still, his unbridled fervor for a game associated with the country club set has occasionally landed him in hot water. During his weekly radio address in 2006, Mr. Bloomberg was asked to name a typical job performed by illegal immigrants. He immediately thought of golf.
"You and I are beneficiaries of these jobs," the mayor told his co-host, John Gambling, adding, "Who takes care of the greens and the fairways in your golf course?" The remarks drew howls of protests.
And at a civic meeting in Canarsie, a working-class section of Brooklyn, earlier this year, homeowners interrogated the mayor about rising taxes and living costs. At one point, Mr. Bloomberg asked how many golfers were in the audience — and the answer appeared to be zero.