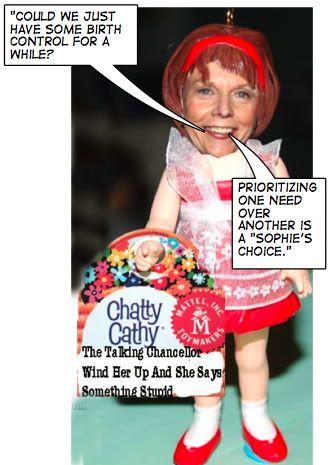 Thanks to Perdido Street for the graphic inspiration
Cathie's Choice: New Yorkers Comment On Cathie
Some very interesting comments on the latest Cathie Black gaffe in which she suggested birth control as a solution for school overcrowding and compared "tough decisions" she has to make on school funding and placement to sending children to a Nazi death camp:
A word of advice, Cath. You need to build up a modicum of credibility before you start with the wisecracks. Despite what you may believe, you have none when it comes to the educational system.
Well, what do you expect from a Waspish Park Ave matron? It's just a matter of time before her views on eugenics become public.
Come on, you guys. She was absolutely right. A little birth control would have been a great thing. Pity her own parents didn't use it...........